1 4 K A R A T B E N G A L . C O M
. . . Anything, but Ordinary . . . MMMMM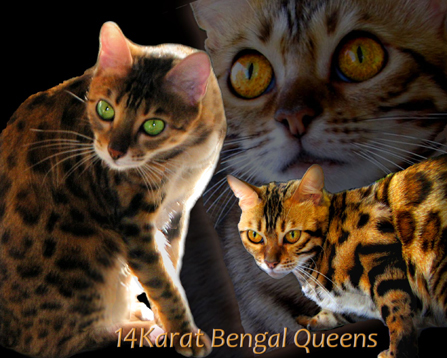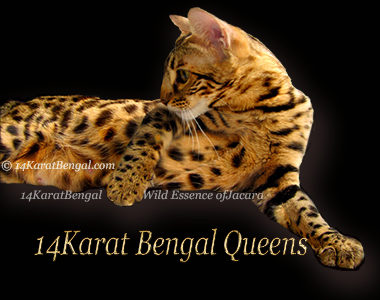 14Karat Bengal Evangelista

14Karat Bengal Kashima x 14Karat Bengal Golden Sabra

I am so proud of this very wild looking girl! Evangelista is a gorgeous combination of the top lines in the world: Stonehenge "Wurthy Line", Kingsmark's very typey charcoal line, Gogees and Cheetahsden lines! She has an incredible pedigree! I love her wild face with large eyes, wide cheek bones, jet black markings and gorgeous expression, lovely head-type with gorgeous doming, tiny ears, gorgeous clear, plush and glittered coat boasting humongous rosettes with chunky inky, inky-jet black outlining, chain rosetting going down both sides of her spine, a very lighted/almost white tummy, and a fat, FAT tail always carried low. More importantly, Evangelista is so very sweet, loving and gentle. She is a total doll baby.



---
Eyes are turning a beautiful green-updated pic above

14Karat Bengal Sweet Jungle Doll "Dolly"

14Karat Bengal Kashima x 14Karat Bengal Golden Sabra

Dolly is the happiest, most exuberantly loving Bengal girl! She adores people and she loves everything about life. She is beautiful with vibrant, super-rich coloring, HUGE-HUGE rosettes, fat-FAT tail, small ears and a stunning face with very large, beautiful eyes. Her name fits her perfectly! "Sweet"-so, so exuberantly sweet! "Jungle" - lovely wild type and "Doll" a true doll baby!

CLICK HERE TO SEE PICTURES OF ALL OF SWEET JUNGLE DOLL'S BABIES
---






14Karat Bengal Jacara London

IndiaInk Sakima x Kingsmark Sakia

London is very foundation looking and looks more like an F2. She has a very nice head, excellent profile, wonderful big eyes, gorgeous coat with very flowing jet black outlined rosettes and a fat tail. London is extremely sweet and very expressive with her affections~head butting, kneading and giving tons of kisses. She also turns into a rag doll when she is picked up and held and is a true lap baby. She goes crazy for her toys and LOVES to play in water!



---




14Karat Bengal Nisaba

14Karat Bengal Golden Sabu x Gogees Xzotic Kiss of 14Karat Bengal

Nisaba is the first baby Sabu sired and she is a beauty! Her coat is even more amazing in person ~ loaded with tons of very flowing inky, inky black outlined large rosettes, rich coloration, great contrast and extremely clear. She has a long, large body and a thick tail. And that face! What a gorgeous face Nisaba has with big, big eyes! Nisaba is exuberantly sweet and affectionate too. She loves to be held and she also does a full body butt when you reach down to pet her. She has an adorable personality.

CLICK HERE TO SEE MORE PICTURES OF NISABA

n
---
---
***AVAILABLE LOVING, GORGEOUS RETIRED QUEEN***
---
---
AVAILABLE - ONLY TO CAREFULLY APPROVED HOME
14Karat Bengal Golden Sabra

RETIRED - Available to Carefully Approved Home Only

14Karat Bengal Golden Sabu x Gogees Xzotic Kiss of 14Karat Bengal

Retired - ONLY Available to a Carefully Approved Home - I have the strictest approval process. Please send a very detailed email about yourself if interested, if you want a response. I interviewed approx 10 homes for Embers, over 20 for Total before choosing what I felt to be the best homes. I will be just as particular about Sabra. Sabra is my precious doll baby and parting with her will be one of the hardest things. If you do not wish to go through such an extensive approval process, that is fine- I respect that but I do have one of the strictest approval processes around.

Sabra is as sweet as they come! At just 11 days of age she would knead and purr loudly whenever anyone would touch her. She adores people. She is a complete lover and she is beautiful with vibrant, rich coloring, large rosettes, very small ears and a stunning face with huge eyes. She inherited Sabu's amazing eyes! She also inherited from her daddy the 'full body butt' ;-) She jumps her entire body off of the floor when you reach down to pet her. She is so exuberantly happy and loving!

CLICK HERE TO SEE MORE PICTURES OF SABRA
---
---
---
Retired Queens Featured Below
All Retired Queens are in their forever homes with their new families. Retired queens are shown for reference purposes only.
---
---
---

















Gogees Xzotic Kiss of 14Karat Bengal

(RETIRED)

Gogees Breaking News x Gogees French Kiss

I am very excited about Xzotic Kiss! She has an incredible pedigree with Champion to Supreme Grand Champion ancestry including RW QGC Snopride Trust Wurthy, RW OS SGC Stonehenge Wurthawate, RW SGC Calcatta's Custom Made, IW SGC Jumanji's Gidget, RW SGC Gogees Warpaint, GRC Millwood French Lace, LA SGC Millwood Ischiron to name only a very few from this amazing star studded predigree. Zotic is gorgeous with a fabulous pattern, huge rosettes, nice contrast, clear coat with glitter, nice long body and nice whisker pads. She is such a sweetheart, is a purring machine, loves to be held and she is quite the 'talker'! She is very athletic and loves to play fetch.


I have 2 gorgeous girls from Xzotic Kiss and an amazing boy. Xzotic Kiss is now retired and in her forever home with Violet Kiggins.

CLICK HERE TO SEE XZOTIC KISS BABIES WITH SAKIMA



---









14Karat Bengal Embers of Jacara

(RETIRED)

14Karat Bengal Supreme Wurth X 14Karat Bengal Jacara London

RETIRED and being adored and cherished by my dear friends, Ann & Jim.

Embers is a fabulously "foundation-looking" girl and she has a fantastic pattern and tons of glitter! I LOVE her very wild head and profile, gorgeous body, rich red coloration, beautiful flowing pattern of large rosettes with a very intense strong horizontal pull. She also has a fat, FAT tail! She is a very sweet girl too.



---



Kingsmark Sakia of 14Karat Bengal --

(F5) (RETIRED)

StarBengal Patton x Kingsmark Silver Treasure

Sakia is a true sweetheart and extremely typey- she is the essence of wild. She has an impressive pedigree with Grand Champion to Quadruple Grand Champion ancestry including Grand CH Millwood French Lace, OS CH Millwood Italian Filigree, RW Quadruple Grand CH Dicaprio of Starbengal to name a few and she is an F5: 5 generations from Asian Leopard Cat "Taro". Sakia is very foundation in her structure looking more like an F2 and she looks just like a Leopard Cat with her nice thick, long, deep body, thick tail, great head and profile and beautiful black outlined rosettes. It is so much fun watching Sakia play because when she plays hard she lets out a roar and pants plus she is wildness personified! She is keenly intelligent and she is an expressive girl. By 3 and 1/2 months old she learned to roll over, lie down, beg and jump up onto my shoulder when commanded, "up!" Giving the best of both worlds, she is very athletic, loving to play but she also loves to be held...for 4 solid hours at "nana's" every night! Thank you Karen (of Kingsmark) for allowing me to have such an amazing cat! Sakia has been a huge asset to my program - She is now retired and living in her forever home with Pat.



---










14Karat Bengal Xzotic's Total Knockout

((RETIRED)

IndiaInk Sakima of 14KaratBengal x Gogees Xzotic Kiss of 14KaratBengal

Total Knockout is a stunning girl! She has a gorgeous face with big eyes and a sweet expression, fabulous coat with very flowing, large, open rosetting, beautiful coloration, nice contrast, clear, glittered coat, wonderful body with large, strong boning and a fat tail. She has excellent movement with a fantastic wild cat wiggle and she is over the top, exuberantly sweet and affectionate. She is very intelligent, responsive and obedient, always wanting to please. She is my doll baby and I love her very much! Total is now retired and being loved and cherished in her fabulous forever home with Tamara Merrell.

CLICK HERE TO SEE MORE PICTURES OF XZOTIC'S TOTAL KNOCKOUT

CLICK HERE TO SEE TOTAL KNOCKOUT BABIES
---











Kingsmark Tantara of 14Karat Bengal -- (F4)(RETIRED)

Kingsmark Heir Apparent x Kingsmark Tantra

Tantara is an F4, only 4 generations from Asian Leopard Cat "Taro" and she also has Champion to Supreme Grand Champion ancestry. She is a very sweet girl with a beautiful face, gorgeous large eyes and satiny rosetted coat with glitter. Tantara loves to play/is very athletic and she, too, enjoys being held. She loves to give kisses and is almost always purring. Thank you Karen for this beautiful cat! Tantara is now retired and living in her forever home with Charlene.

CLICK HERE TO SEE TANTARA'S BABIES