Sakima produces incredible kittens with beautiful coloration, fabulous rosetted coats, great bodies, gorgeous faces, fantastic profiles & the absolute sweetest, loving & adorable personalities.
Click on the links below to view Sakima's babies.
CLICK HERE FOR SAKIMA & SAKIA'S KITTENS
---
CLICK HERE FOR SAKIMA & XZOTIC KISS' KITTENS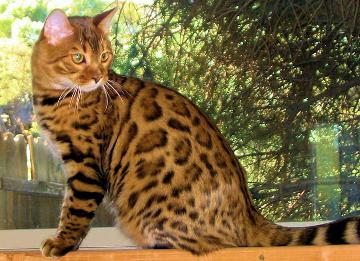 ---
Sakima ~ My precious velcro kitty
Sakima will always be my 'forever kitty.' He is my precious, special baby. A few years back I had surgery and was in the hospital away from Sakima for a week. When I was released from the hospital my parents took me to their house to recuperate for a month and they brought Sakima to their house to be with me. The first night he saw me he constantly gave me kisses...even all night looong. I woke the next morning with my chin raw from his constant licking and kissing me :-) He would not leave my side for the entire month I was at my parents' house except to use his litter box. My parents had to put his food and water bowls up on the bed with me. He is an incredibly loyal and devoted boy ~ A true velcro kitty in every sense. His kittens typically always get his incredible personality too and are the most darling kitties....not to mention GORGEOUS too! Please take some time to look at every single kitten produced by Sakima. I am proud of every single one of his babies. I also have tons of emails from past buyers that I would love to share with you.
All Photographs Copyright 2011 by 14KaratBengal