---



14KaratBengal "Golden Sabra"

Sabra has gorgeous, rich coloration, huge rosettes, a stunning, sweet face with big, big eyes, a beautiful head and profile and very strong, large boning. She is extremely sweet and loving and constantly kneads and purrs!
---
14KaratBengal "KoKori"

Kori is a gorgeous, typey girl with the most adorable face with huge eyes, beautiful rosetted coat, fat tail and nice strong boning. She is a sweetheart and is filled with personality. Art, Amanda and their daughter are having tons of fun with this very playful, exuberantly sweet Bengal girl!

---



14KaratBengal "Giselle"

Giselle has a fabulous head and gorgeous profile and an incredible face with large eyes. She also has a beautiful looong body, a stunning rich colored coat covered in dark outlined rosettes and spectacular shoulder markings. Not only is she gorgeous but she has a wonderful personality too. Thank you, Elizabeth, for giving this beautiful velcro kitty a wonderful home!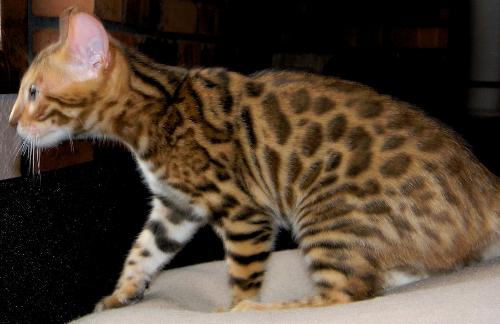 ---



14KaratBengal "Sebastian"

Sebastian is a huge boy! At 8 weeks of age he weighed nearly 3 pounds! He has a wonderful body, nice random rosetting, sweet face with very pronounced whisker pads. He is deep in his fuzzy stage but his coat will be gorgeous once he is fully developed. Sebastian is a complete lover boy and always had to be close to me, either right on me or tight to my side. He is now showering Kendra and Jeff with his love.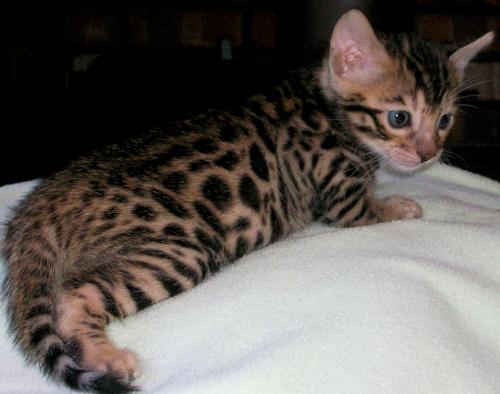 ---



14KaratBengal "Lil' Bu"

Lil' Bu has an identical adorable personality as his daddy! Sitting on his owner's shoulder, nibbling and kissing his owner's ears is a common thing for Lil' Bu! Lil' Bu is such a major lover and is a happy boy- kneading almost constantly, giving tons of kisses and giving nose rubs. He has an adorable face, small ears and big, jet black outlined rosettes. What a special, loving boy he is!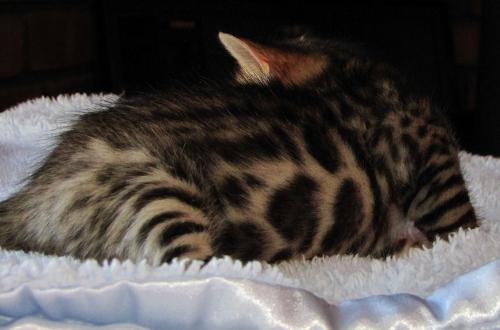 ---
I expect a new litter sired by my beloved Golden Sabu by the end of 2012
---
---
CLICK HERE FOR SAKIMA & XZOTIC KISS' BABIES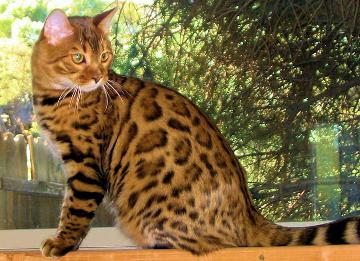 ---
---
All Photographs Copyright 2010 by 14KaratBengal