---



14KaratBengal "Red"

Red is gorgeous with a fabulous, very random pattern of beautiful, black outlined rosettes with deep dark red centers. His background coloring is very pretty light golden with red tones. He has a gorgeous face with large eyes and a lovely head with a great profile. Red also has tons of glitter. He will mature to be quite a beautiful boy! He is very sweet and extremely playful and active.
Red pictured at 11 & 8 weeks of age
---
14KaratBengal "Cassanova's Munchkin Kiss"

Cassanova, formerly known as Kissimee, stole my heart. He is so exuberantly affectionate like his father ~ head butting, nose rubbing, falling all over himself to share his love and happiness. He is also gorgeous with his adorable cub-like face, HUGE black outlined rosettes and beautiful coloring. He loves to be held just like a baby by Barb and Joe. Thank you for showering this precious love bug with your love!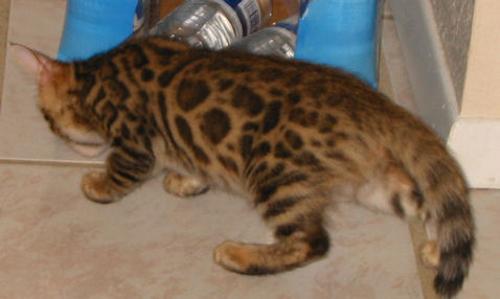 Cassanova pictured above at 6 & 10 weeks of age
---



14KaratBengal "Promising Kiss"

Promising Kiss is my beautiful baby with a gorgeous coat of totally random, flowing black outlined rosettes with beautiful red centers. He also has a very nice profile and gorgeous coloration. He is a sweetheart and loves to snuggle with his owner, Rhonda, and her daughter.
Promising pictured above at 8 & 10 weeks of age
---



14KaratBengal "Total Knockout"

Total Knockout is a beautiful, sweet girl with a gorgeous coat of totally random, large, black outlined rosettes and a pretty golden coloring, a fantastic body with very strong, thick boning and large paws. I do think she will be a large girl.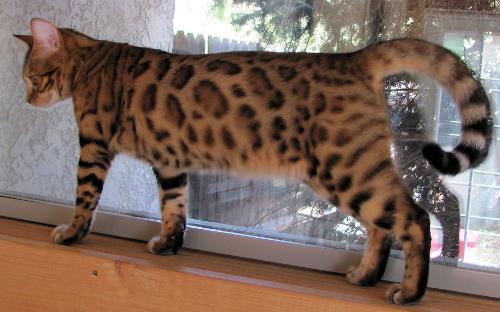 Total Knockout pictured above at 7 & 4 months of age. She is a large girl!
---





14KaratBengal "Niņa"

It was very hard for me to let Niņa go. She is absolutely stunning and does not photograph nearly as beautiful as she is in person. She has a beautiful face with large eyes, fantastic profile, striking coat of very inky black markings that are slowly opening into rosettes, amazing rosetted shoulder markings, an extremely soft, thick, plush coat and great body. Melissa and Steve are providing Niņa and her brother, Macho, with an incredible, loving home.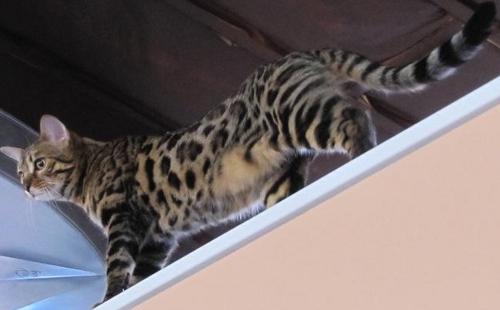 Updated photos of Niña courtesy of Niña's owner, Melissa Crytzer Fry. Melissa and Steve are some of the absolute BEST owners! Thank you for providing such gorgeous pictures of Nina.
---
14KaratBengal "Macho"

Macho is an incredible boy! His head and profile are fantastic and his face is absolutely stunning with a sweet expression and large, beautifully shaped eyes! He has a fabulous body with nice, strong boning, long substantial neck and gorgeous rich red coloration. As a tiny 4-5 week old baby he would knead the air with his paws whenever he was picked up. He is being adored by Melissa and Steve~ Thank you guys! I could not ask for better owners.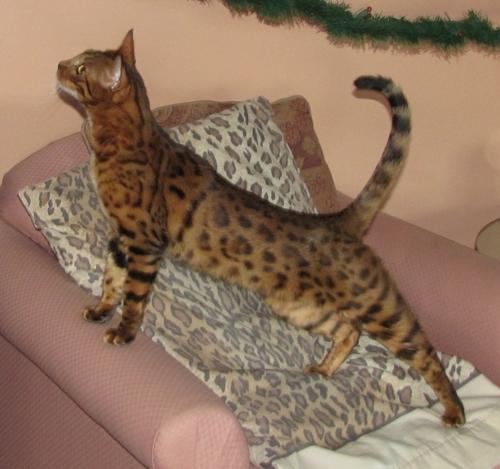 All of the updated photos of Macho are courtesy of Macho's owner, Melissa Crytzer Fry. Thank you so much, Melissa, for staying in close touch with me and for sending all of these gorgeous photos!
---
14KaratBengal "Szabo"

Szabo, formerly known as LoverBoy, is my sweet angel who loves to be held and loved. He is so incredibly loving, calm, mellow and gorgeous with a wonderful face, lovely head and profile and humongous very black rosettes with rosettes going down over his rump. He also has fantastic rosetted shoulder markings. Szabo has a stunning, very well contrasted coat. Thank you, Dick and Theresa, for treating Szabo like he is your special child. He is precious and very blessed to be part of your family!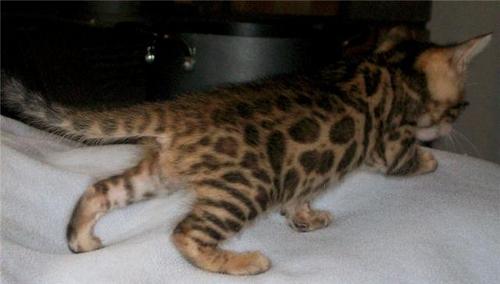 Top 2 photos of Szabo are courtesy of Szabo's owners, Dick and Theresa Larsen. I could not ask for better owners for this special boy! Thank you for staying in touch!
---
14KaratBengal "Mara Leona"

Mara Leona is a beauty with tons of large rosettes including a perfectly outlined heart-shaped rosette, nice head and profile, adorable face and sweet, sweet personality. She is a total doll and loved to stand on my face always being so gentle. She would stare into my eyes and lick my eye lashes so gently ~ She is so fascinated with eye lashes! Mara LOVES to be held and likes to nibble on ears. She is such a playful little thing too! She is so much fun and is a total blessing to her new owner. Mara will be very stunning once she is fully out of the fuzzy stage- check out her baby pics!
Mara Leona pictured at 13 & 6 weeks of age
---
14KaratBengal "Bruno"

What character this boy has! Bruno is a big, sweet loveable teddy bear; and if it looks like his body goes on forever, it kind of does! He has such a nice looong body with lots of very dark rosettes and gorgeous, rich red/golden coloration. He is being adored and cherished by Miriam and her awesome family including her son.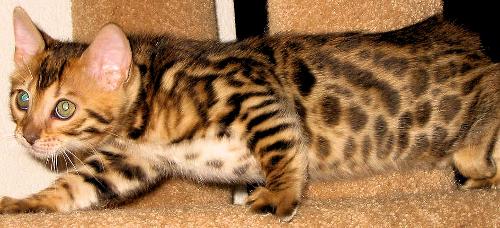 Bruno pictured above at 8 weeks of age
---



14KaratBengal "Shania"

Shania, formerly known as Sun Kissed, is my precious, sweet baby. She has a sweet face & a lovely coat of totally random rosettes with rosettes even going down over her rump. Her coat is super soft with very pretty coloration & tons of glittering. Shania is exuberantly affectionate & LOVES to give lots & lots of kisses. She is a true lap baby & velcro kitty who LOVES to talk :-) Thank you, Genevieve, for being a wonderful 'mommy' to Shania and for spoiling her!

CLICK HERE FOR MORE PICTURES OF "SHANIA"



Shania pictured above at 7 & 5 weeks of age
---



14KaratBengal "Rosie Rae"

Rosie Rae, formerly known as BeDazzled, is an exuberantly affectionate, gorgeous baby. She has beautiful rich coloration, a very nice coat with gorgeous rosetted shoulder markings and lovely rosettes with rosettes even going down over her rump. She has a nice profile and fabulous large eyes. She is very calm and sweet~ loving to give tons of kisses and she loves to be held. Thank you, Karen and family, for providing her with such an awesome, fun home!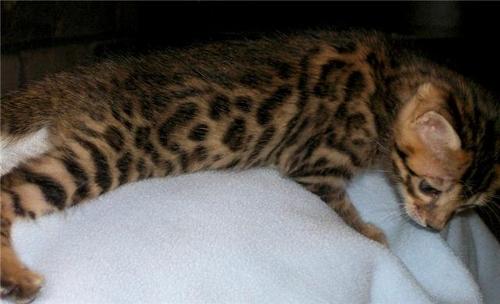 Rosie Rae pictured above at 5 weeks of age
---



14KaratBengal "Roxanne's Kiss"

Roxie has such beautiful coloring and will be very pretty when she gets out of the fuzzy stage. She has a cute, kissable face and is quite the lap baby. She also is extremely playful and is always up for a teaser toy! She is a sweet little girl. Thank you, Barb and Joe, for providing her with such a wonderful home! You two are the sweetest people.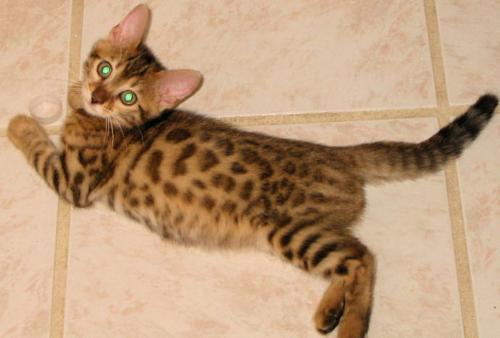 Roxie pictured above at 10 & 6 weeks of age
---



14KaratBengal "Mystic"

Mystic's face is so adorable with very nice whisker pads and she has a lovely profile. Once she fully develops out of the fuzzy stage she will have a nice coat of lots of contrasting rosetting with a very pretty golden coloring. Mystic has a nice body with substantial boning and should develop into a very nice size girl. Thank you, Cynthia, for providing Mystic with such an awesome home!
Mystic pictured at 10 & 8 weeks of age
---



14KaratBengal "Morning Kiss"

Morning Kiss is a major lover boy! He is super affectionate and has a very cute face. He is deep, deep in his fuzzy stage but should develop beautiful, rich coloring with vivid rosettes once he is fully out of the fuzzies.



Morning Kiss pictured above at 5 & 6 weeks of age.
---
---
---
---
All Photographs Copyright 2011 by 14KaratBengal