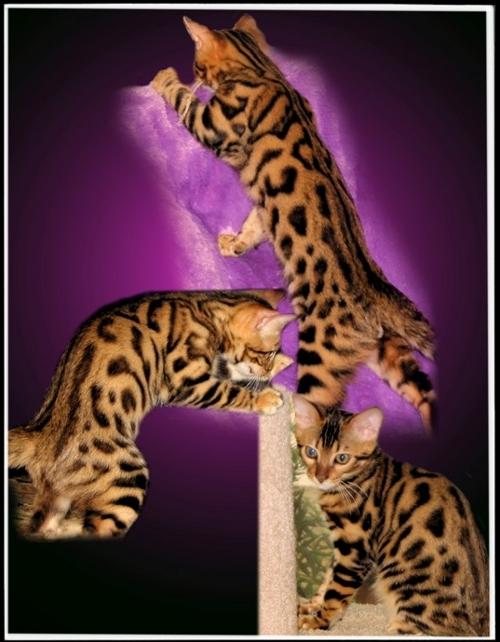 Sabu pictured above at 11 & 14 weeks of age
Thank you Brigitte McMinn of Bengals Illustrated for creating such a beautiful collage of my gorgeous Sabu! Sabu was featured in Bengals Illustrated, a very prestigious award winning Bengal cat publication.
---
14KaratBengal Sheva Tekoa

Sheva Tekoa, formerly known as "Shalonn", has amazing type and is just absolutely stunning. He has a breathtaking face with nice round eyes, beautiful, correct head type with an excellent profile running smoothly up over his head with no break above the brow just like the Asian Leopard Cat and so rarely seen on an SBT Bengal. He has a nice long neck flowing into a very large, long body with nice substantial boning. His coat has gorgeous deep rich coloring with very nice black flowing rosettes. He may look wild but he is anything but! Sheva LOVES to be held for hours; literally! he will lie in a lap for 5 hours at a time and just loves to snuggle and be close. He kept my mother wonderful company after her back surgery! Another gorgeous Sakima/Sakia baby!

Pictured to left as a baby.
Sheva Tekoa pictured above at 7 months of age ~ VERY large boy
---
14KaratBengal Kashima

This boy is spectacular! He has a beautiful head and profile, stunning face with big, wide spaced, very black outlined eyes, high cheekbones, amazing coat with huge, chunky, inky, inky black outlined rosettes, gorgeous rosetted shoulder markings, rosetted and spotted, thick tail, very slick, drenched in glitter coat that has an incredible high lustrous sheen just like his father's. He constantly purrs and kneads and will even knead my face. He does very well with being held.
---
14KaratBengal Taiberius

Taiberius, formerly known as "Rome", was my little sweetheart and an absolute lover. He loved to be carried around as a very tiny baby inside of my shirt with only his head peaking out. He was always crawling up into my lap- rubbing, kneading and head butting. He is an absolute doll with a beautiful face with the sweetest expression. He, too, has a wonderful profile ~ this pair seems to always produce great profiles & GORGEOUS faces. He has a nice coat of flowing black rosettes and a nice long body with good boning. He is simply adorable and is enjoying his fun-filled life playing and snuggling with his new family, the Scarletts. Thank you for providing him with such a wonderful home and for staying in touch!

Pictured to left at 10 weeks of age.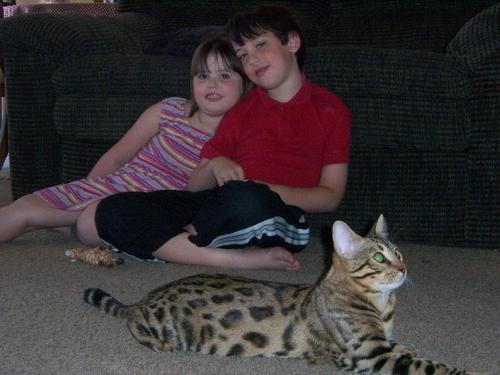 Above photo courtesy of Taiberius' wonderful family, the Scarletts. He is pictured at 6 months of age. He, too, should be a large boy weighing in at 9 pounds at just 6 months of age.
---
14KaratBengal Desert Jewel

Desert Jewel (AKA Julie), formerly known as "Khemara", is an absolute striking Cashmere (long haired) Bengal. She has a gorgeous face with the most captivating large eyes and a beautiful expression. She has a lovely head with a nice profile and an incredible pattern of large rosettes and gorgeous coloration. Julie has a long body and has excellent movement.

Sakima and Sakia seem to always produce stunning Cashmere babies with great type, beautiful coats and faces.

Julie now lives in Germany with someone who has become such a dear friend to me. Thank you for giving her such a wonderful home!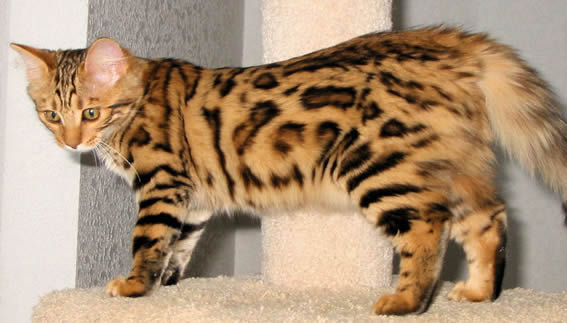 Desert Jewel pictured at app. 16 weeks of age
---
14KaratBengal Jacara London

Jacara London blows my mind! She has a phenomenal profile, great head and is very foundation looking. Her profile is very straight and runs smoothly up over her head with no break above the brow just like the Asian Leopard Cat. She has jet black outlined rosettes with a very flowing pattern. London's tail is very nice and fat. She LOVES to be held, cuddled and kissed and turns into a ragdoll. Be sure to check out her picture page!

Pictured to left at 9 weeks of age.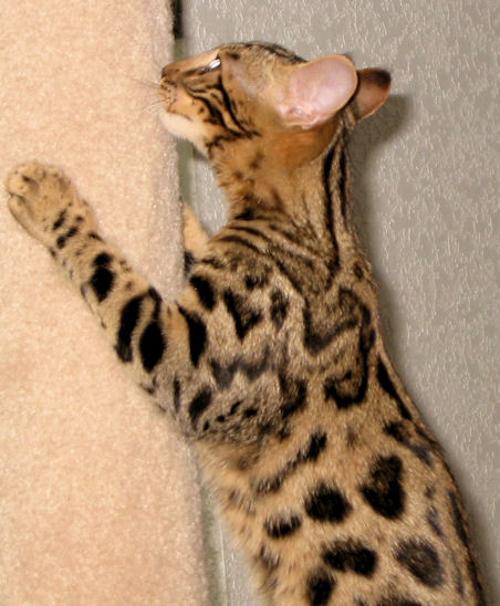 Jacara London pictured above at app 15 weeks of age
---
14KaratBengal Bella Mia

It is so hard to capture Bella Mia's, formerly known as "Paris", true stunning beauty in a photo! She, like most all of Sakima and Sakia babies, has such intense black markings and they do not appear in a picture as black as they are. She has tons of glitter too, which makes the camera flash reflect off of the sheen making her appear washed out. She has inky, inky black markings that are slowly opening into gorgeous rosettes, amazing shoulder markings, a very pretty yellow/golden background coloring and lots of glittering. Bella just LOVES to be held and absolutely melts when she is being kissed ~ She gets such a heavenly daze in her eyes. She has a very nice long body with very substantial boning especially for a female. She should grow into a very nice size girl who will be absolutely stunning! Thank you, Eileen, for spoiling Bella & for providing her with such a loving home!

Pictured to left as a baby.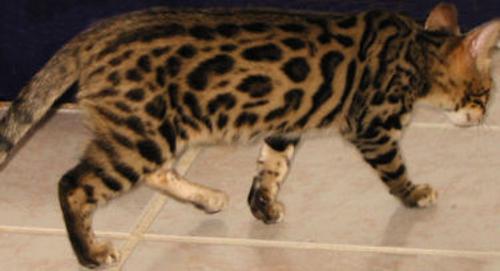 Bella pictured above at app 12 weeks of age ~ VERY nice size girl
---
14KaratBengal Nala

Nala is my very special baby girl! She was so exuberantly affectionate, loving and social from the moment she started to walk. She is an incredibly loving girl and is identical to her father. She is also gorgeous with her beautiful marked coat, wonderful contrast and angelic face. I adore her and greatly miss her. Some kittens have a way of stealing your heart and Nala did just that. My mother fell deeply in love with Nala and cried for days after she left. I am so thankful for Paul and Sara for giving Nala the perfect home. She is such a lover with her constant head butting, nose rubbing, purring and kneading. She is a female version of her daddy for sure!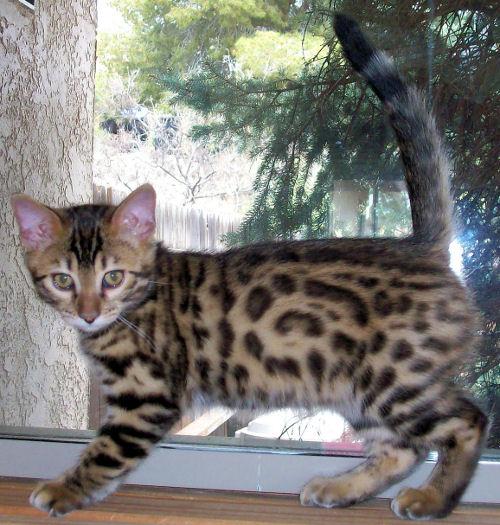 Nala pictured as a baby and again at 10 weeks of age. I hope to have her picture page online soon!
---
14KaratBengal Chichen Itza

Chichen Itza, formerly known as "Sweet Kheauni", has the most darling face with a very sweet expression. He is also exuberantly affectionate, loving to give me constant kisses and he also likes to nibble on my ears. He is my little velcro kitty and is a total love bug who goes CRAZY for his toys! Once he gets out of his fuzzy stage he will have a gorgeous colored coat with deep rich, red/golden tones. He is covered in glitter.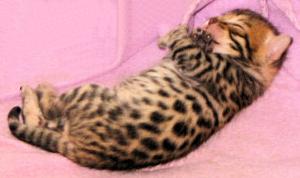 Chichen Itza pictured above at 2, 6 & 8 weeks of age
---
14KaratBengal Scamper

Another gorgeous Cashmere (long haired) Bengal! This boy was one of the great loves of my life. He is very special and has an exuberantly affectionate personality like his father. If he even catches you looking at him he will rub whatever he is beside. Or, if he is not beside anything he rubs mid air almost falling over. He is a major nose rubber too. Scamper, formerly known as "Leo", went through one of the most drastic transformations I had ever seen. He was born almost entirely black with just a hint of silver peeking through. Then his face developed this deep brown, red color while his body was almost gray with very black markings. Then, OH MY! His coat started to develop and these large rosettes started to emerge with a very pretty background coloring &. Now Scamper is a gorgeous golden/red-brown color with lots of glitter. He also has such a beautiful face with huge, staring eyes. I just love him. I am so very thankful to the Mendez family for giving my precious boy such a loving, caring home.

Picture to left courtesy of Joy Mendez, Scamper's wonderful owner.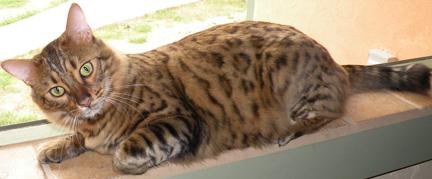 Another wonderful photo courtesy of Joy Mendez. Scamper has the coolest eyes that are so big. Check out his picture page.
---
14KaratBengal Milan

Milan is a darling Cashmere Bengal with a very sweet personality and a beautiful face that always looks to be smiling. She has a lovely head with a great profile, nice whisker pads and a wonderful long, larger body with lots of spotting on her legs. Milan just loves to be held and is a total doll wanting to be with me all the time.
Milan pictured above at app 9 & 11 weeks of age
---
14KaratBengal Lexi

Lexi was my father's little girl. He would come to my house just to hold and play with her. Lexi is an adorable Cashmere Bengal with a beautiful face, sweet expression, smaller ears, gorgeous rich red/golden coloration, glitter, a bushy, bushy tail and large paws. She is a total love and enjoys playing and being held at her new family's home. Also, her owner has told me that her markings did develop blacker outlined as she matured.
Lexi pictured above at app 7 & 13 weeks of age
This match has proven to produce the absolute most gorgeous faces. A beautiful face is so important to me and one cannot go wrong with a Sakima/Sakia baby! They also have such nice coloration and dark outlined rosettes. So, if you are looking for a beautiful Bengal baby with a gorgeous coat, stunning face, great type and the most loving, affectionate personality, one of their babies may be perfect for you!
All Photographs Copyright 2010 by 14KaratBengal