Scamper, formerly known as Leo, is one of the most beautiful Cashmere Bengals. His face, like all of Sakima's kittens, is gorgeous with huge eyes like Sakima's. His coat is very clear with beautiful coloration and nice black outlined contrasting rosettes. His coat is extremely silky soft and has tons of glitter. Scamper also inherited his father's wonderful, long body type and excellent movement.
I am most grateful to Scamper's wonderful owner, Joy Mendez, who has provided me with the beautiful photos below of Scamper. She is not only a wonderful photographer but also I could not have asked for a better owner for my beloved Scamper.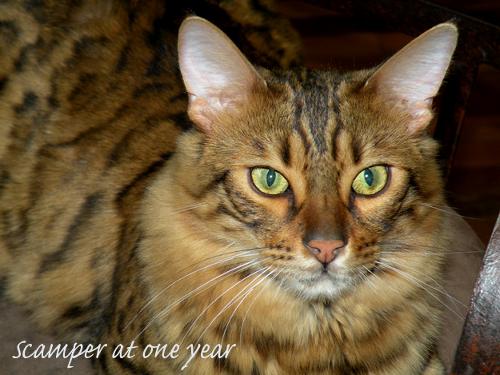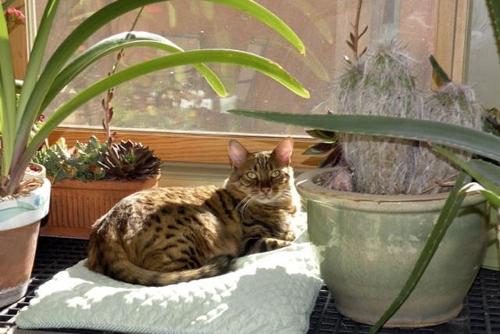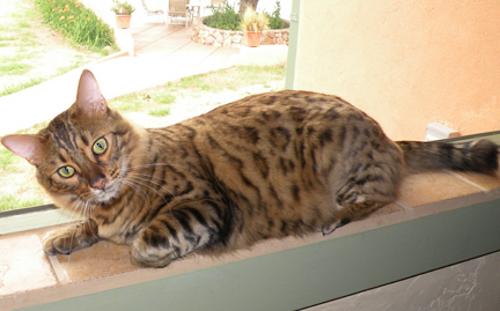 Scamper is not only beautiful but he also has the most exuberantly affectionate personality like his father. He is very special to me & was one of the great loves of my life. If he even catches you looking at him, he will rub whatever he is beside; or, if he is not beside anything, he will rub mid-air almost falling over. He not only head butts but he also jumps his entire body off of the floor to meet your hand. He is a major nose rubber too. What a gorgeous lover boy he is!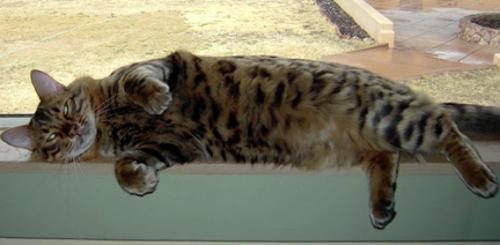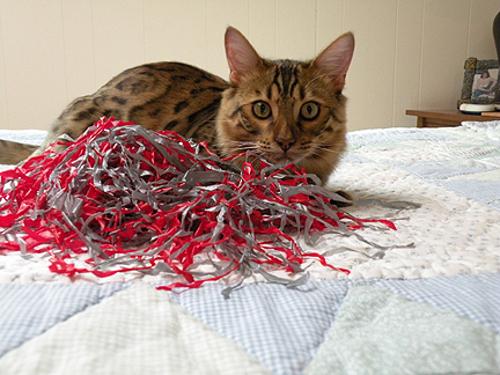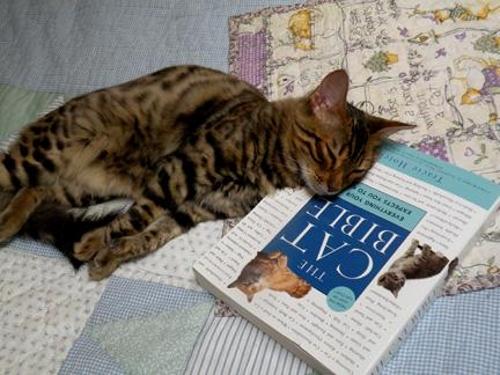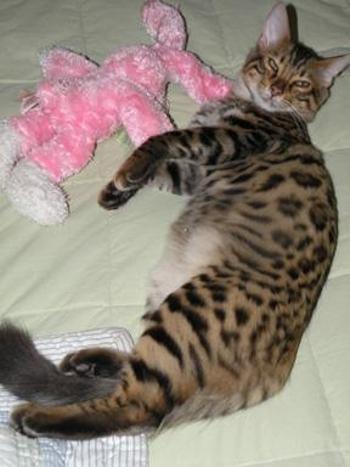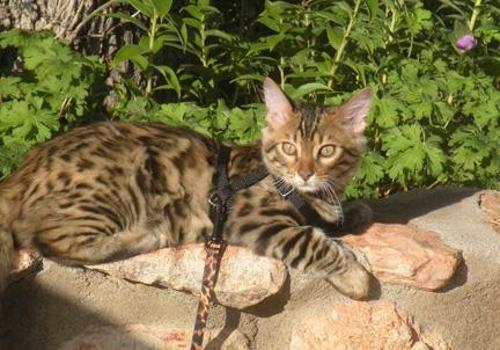 Photo below provided by Joy Mendez taken of her precious boy and his new human father shortly after settling in his new home.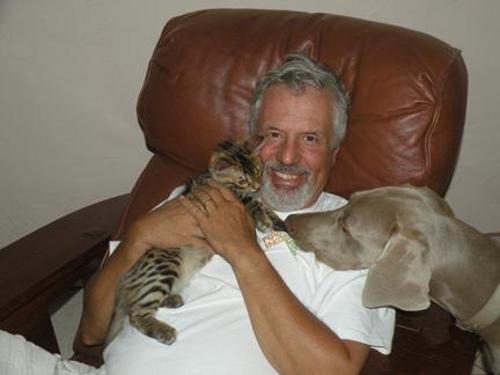 All the photos above courtesy of Joy Mendez, Scamper's wonderful owner.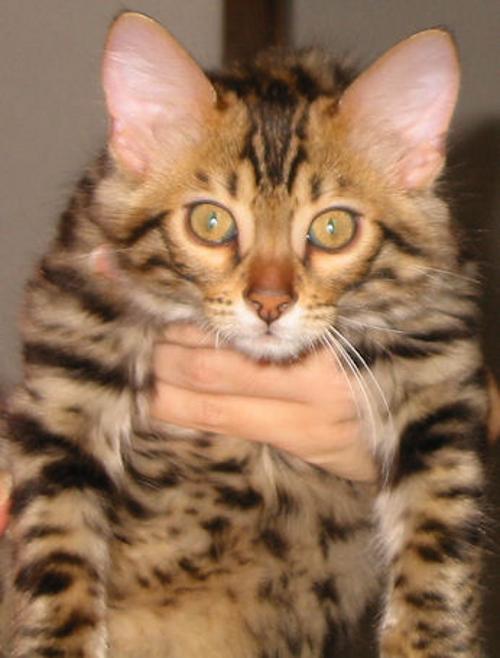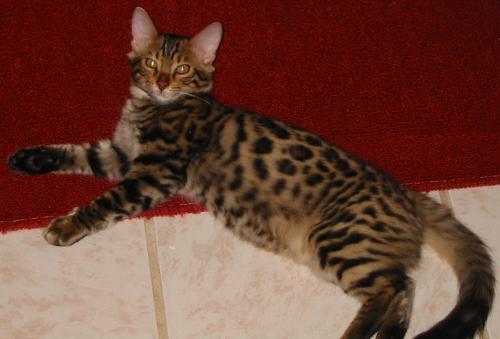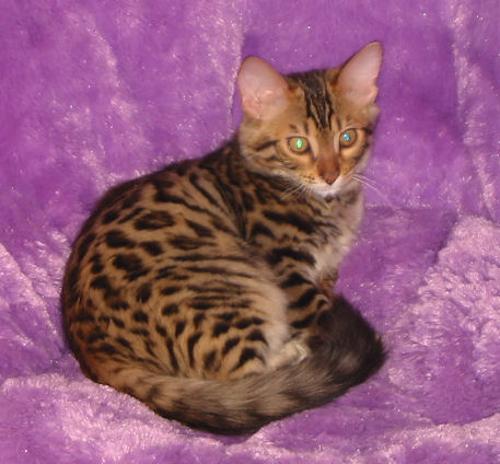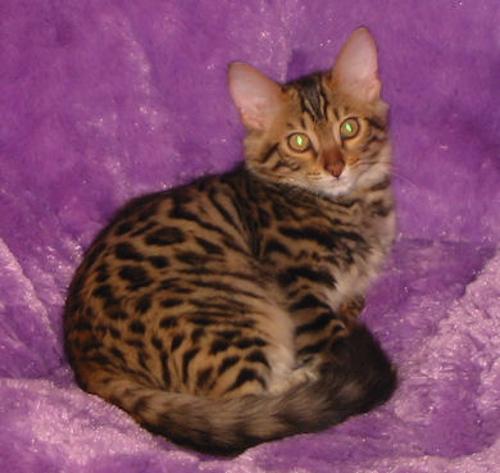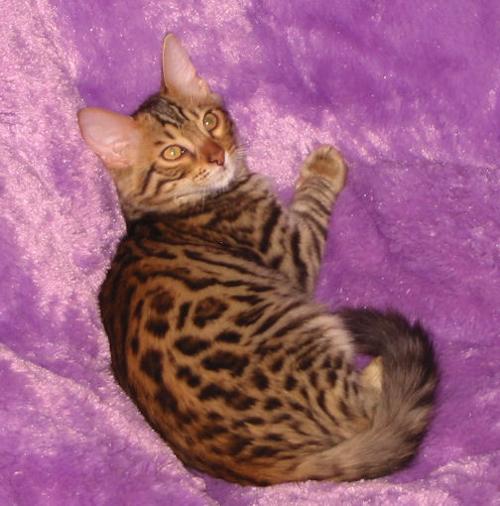 Scamper is showing off his incredibly HUGE eyes in the photo below! It is so hard to capture his large eyes since he seems to always smile with his eyes whenever he catches anyone looking his way. I love his fabulous large eyes!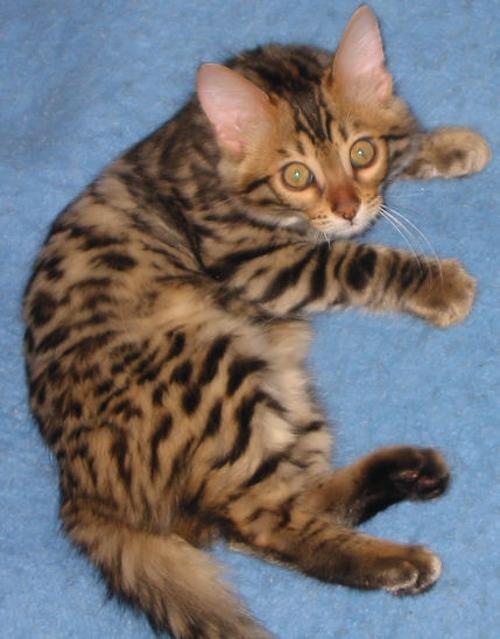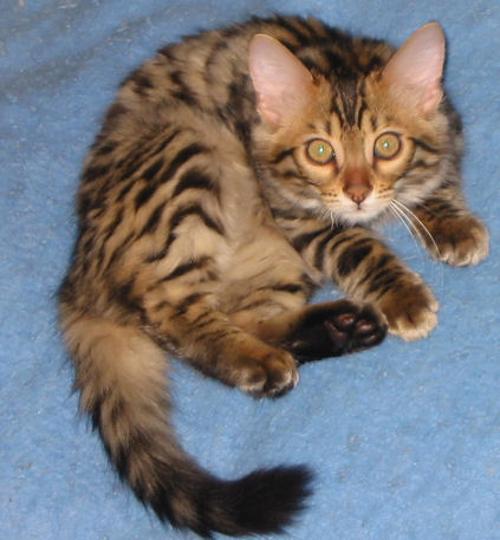 Scamper, like most all of Sakima & Sakia's babies, has a fabulous profile & spectacular rosetted shoulder markings.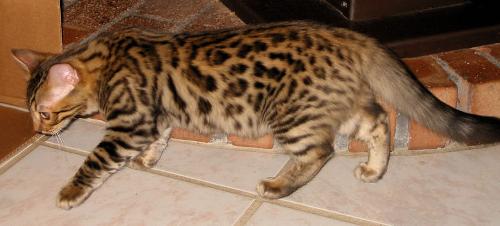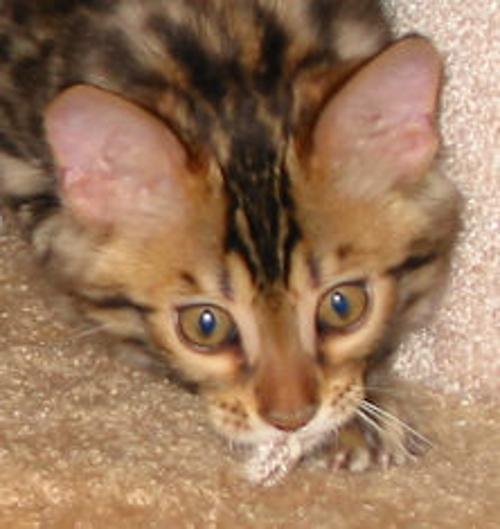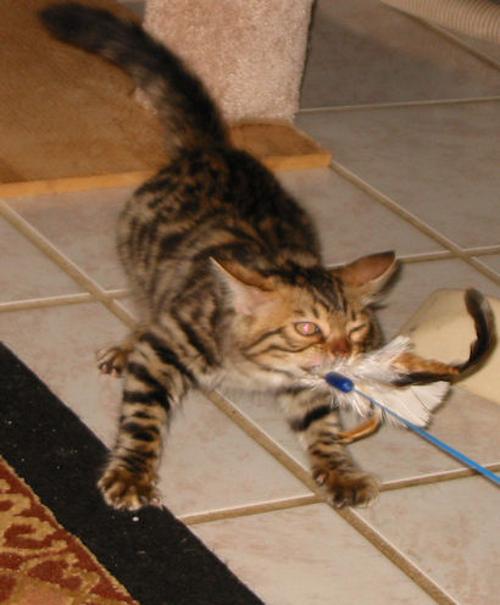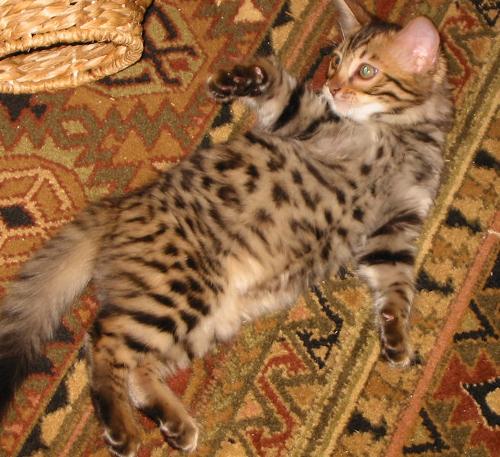 Scamper went through the most drastic transformations I ever saw. He was born almost entirely black with just a hint of silver peeking through. His black was the shiniest black I had ever seen and he had sort of a metallic sheen to his coat. Then, his face developed this deep brown/red tone while his body was almost gray with extremely black markings. Then, OH MY! his coat started to develop & these large rosettes started to emerge with a very pretty background coloring. As you can see in the first photos featured on this page Scamper is now a very beautiful golden, red/brown color.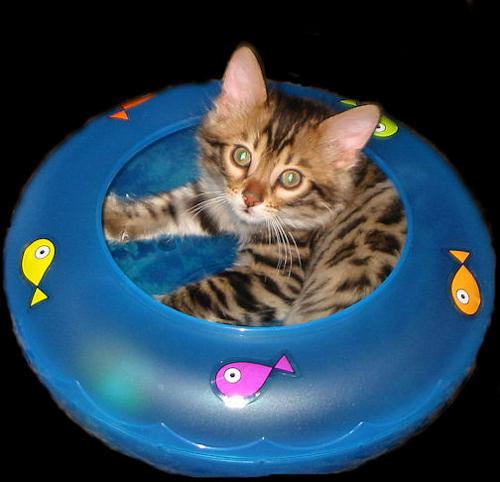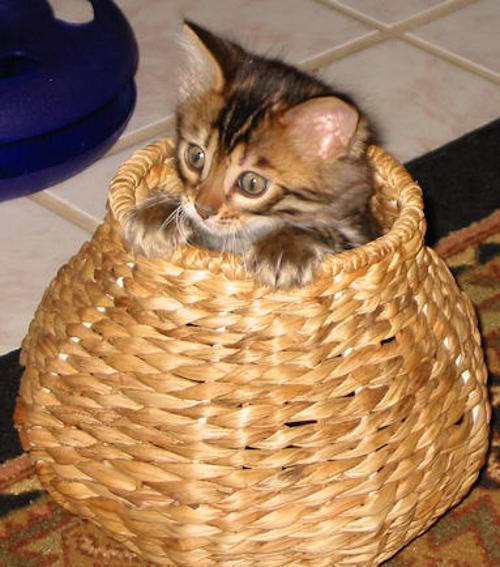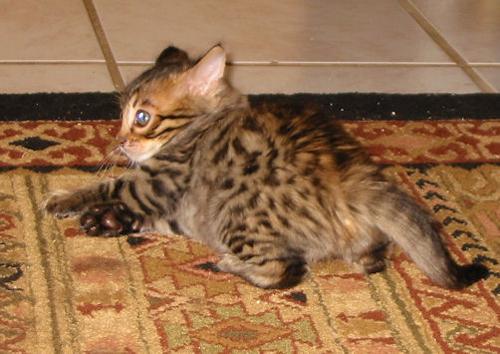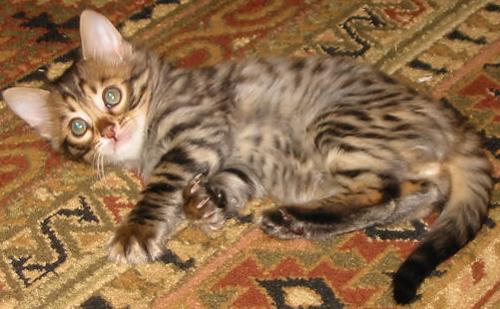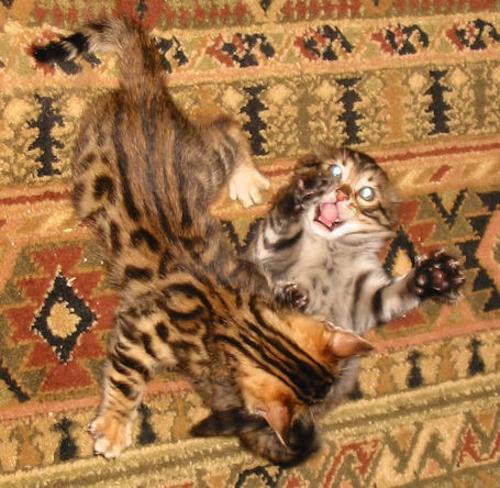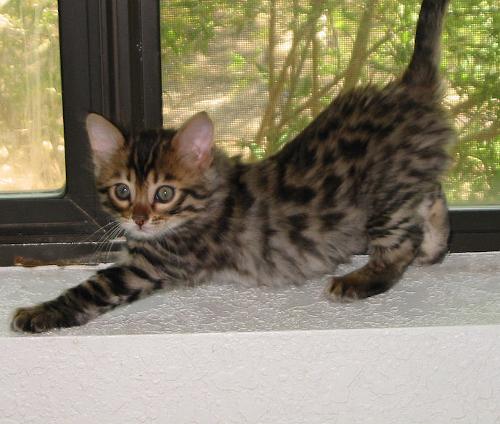 He has the most wonderful eyes! Scamper is a great example of Bengal kittens developing their true coloring on their face and around their temples first. Notice the deep rich coloration on his face while his body appears very grayish in coloring. Be sure to look at the first pictures on this page to see the beautiful coloring Scamper developed over his entire body! He turned into a gorgeous boy!