Email if interested and please share in depth about yourself in your initial email IF you expect a response.
Be sure to check out 14KaratBengal's Cashmere Babies featured as Outstanding Kittens in the current Bengals Illustrated Publication!
---
AVAILABLE!
I am super excited about this young Cashmere female named Sabrina!
Father: 14KaratBengal Kashima and mother is sired by Sakima and down from Amantra La Mar
Beautiful rosetted pattern -- I expect her to be very similar to 14KaratBengal Desert Jewel (formerly known as Khemara). Kashima is full brother to Desert Jewel.
Even deep in the fuzzy stage at this young age she has gorgeous coloration and good contrast.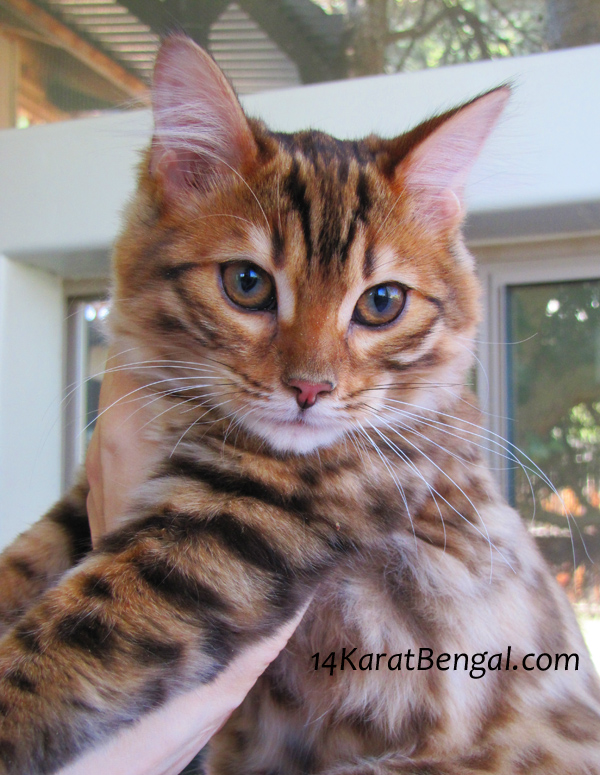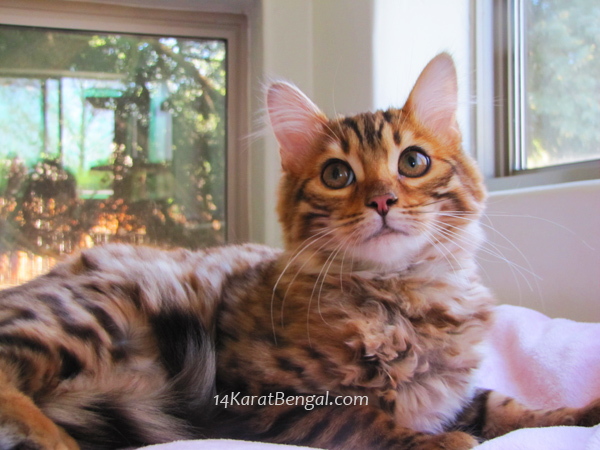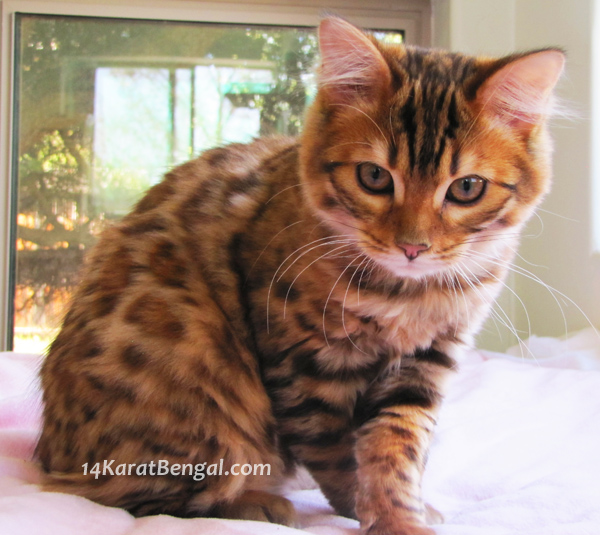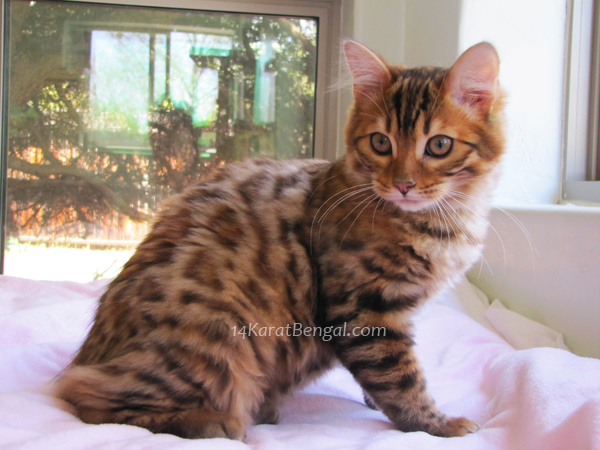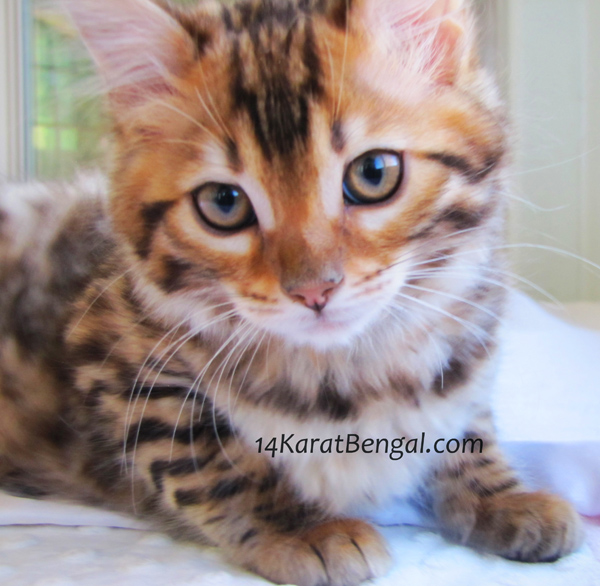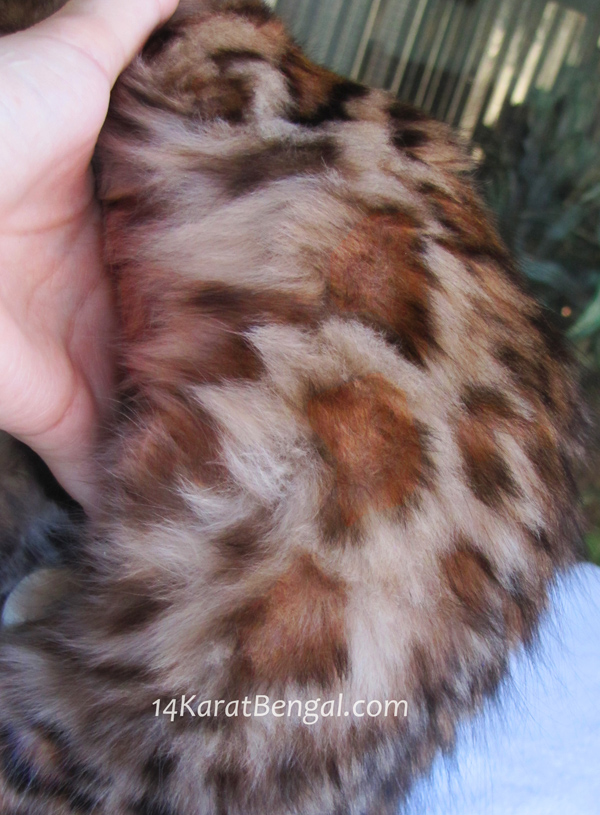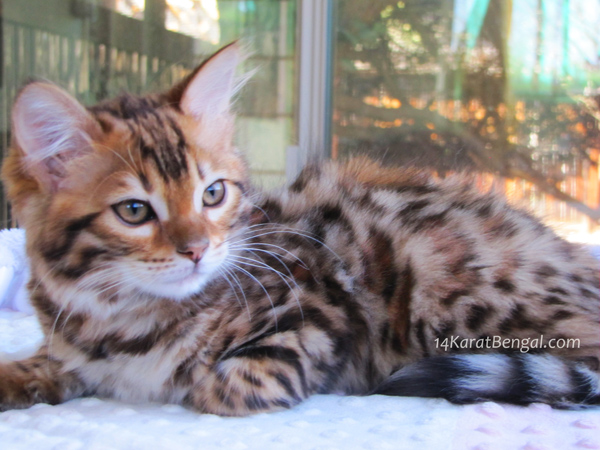 ---
---
AVAILABLE!
So very sweet and pretty "Alyse"
Father, 14KaratBengal Supreme Wurth, is down from the very famous WURTHY-line and mother is from some wonderful JUNGLEBOOK lines.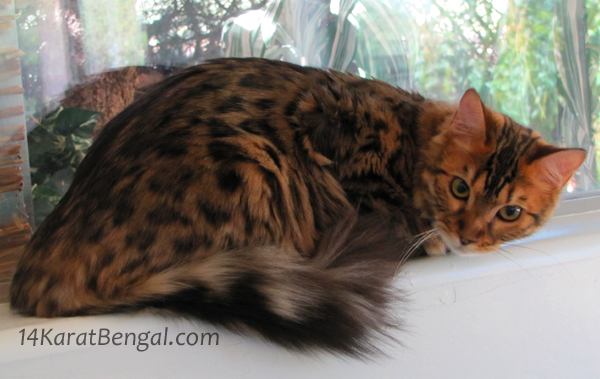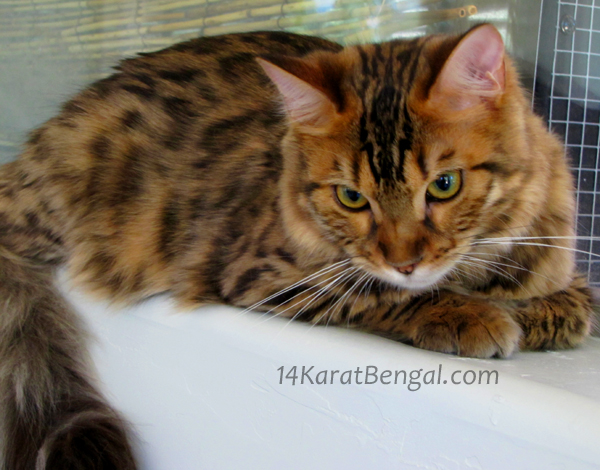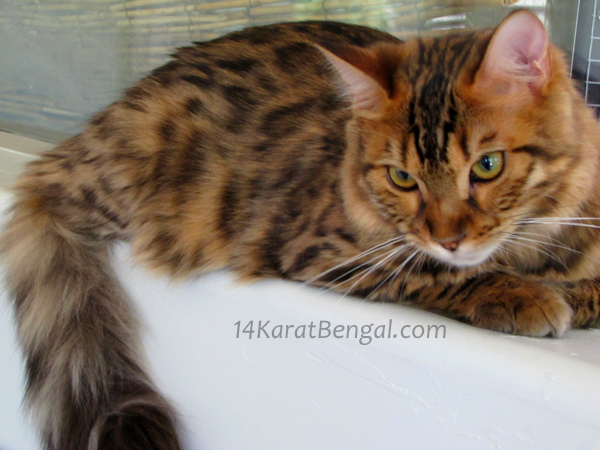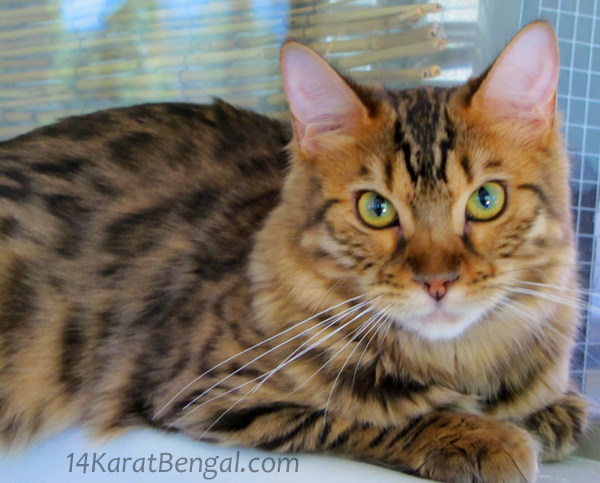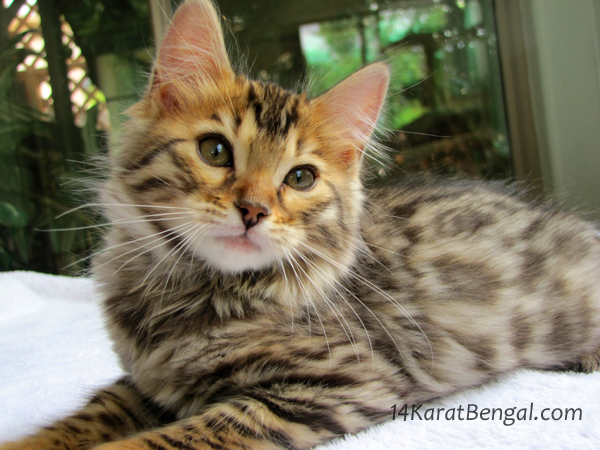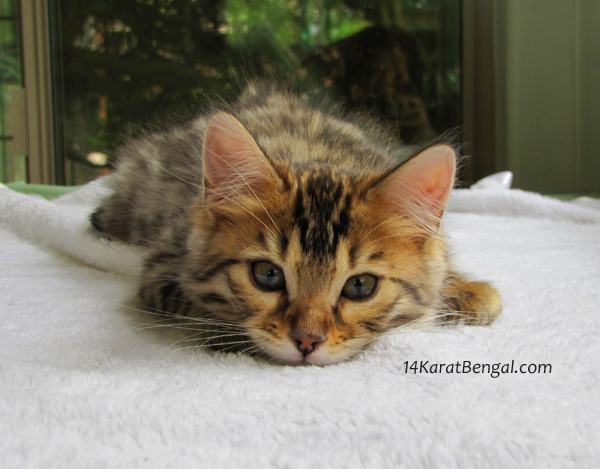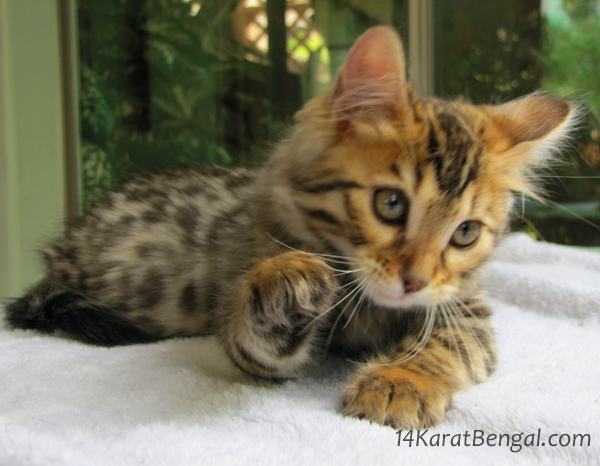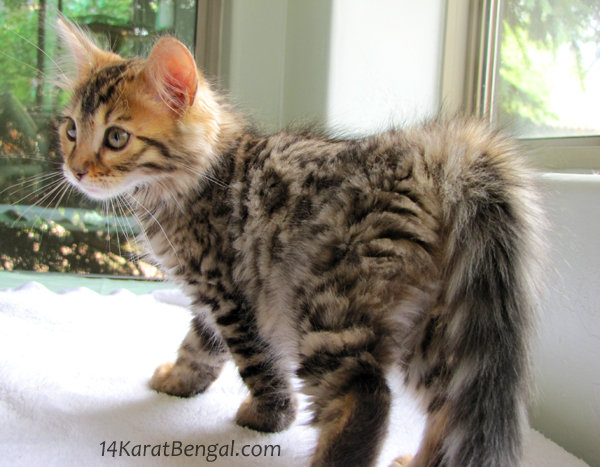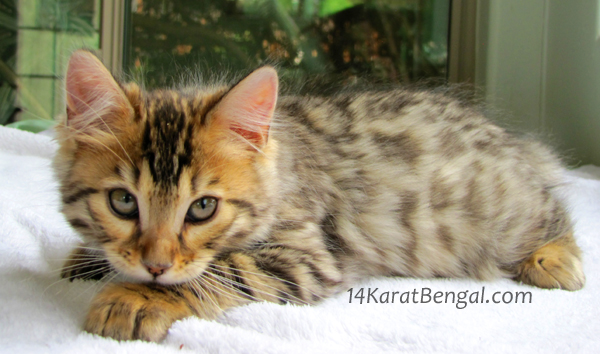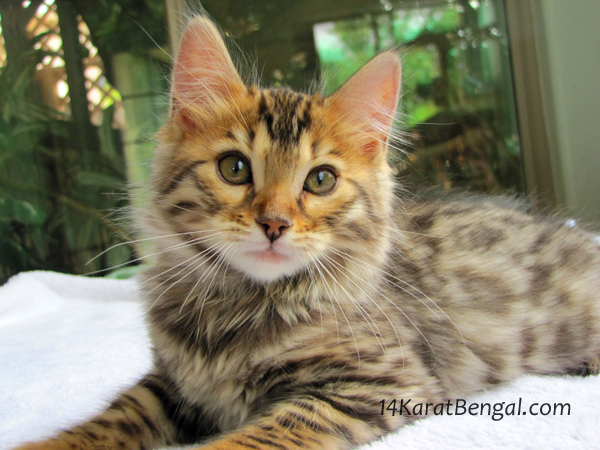 ---
---
Beautiful, Very Foundation Looking Cashmere Baby Boy with Beautiful Black-Outlined Rosettes, Fantastic Leopard-Cat Head and Profile & Adorable Personality!
Daddy: 14Karat Bengal Supreme Wurth ; Mommy: 14Karat Bengal Jacara London -- 14KaratBengal Flynn (formerly known as Kodi ; )
Sold to Catalina
THANK YOU, Catalina, for being the best kitty mommy! Flynn will soon be joining 14KaratBengal Autumn with one of my dearest friends, Catalina :)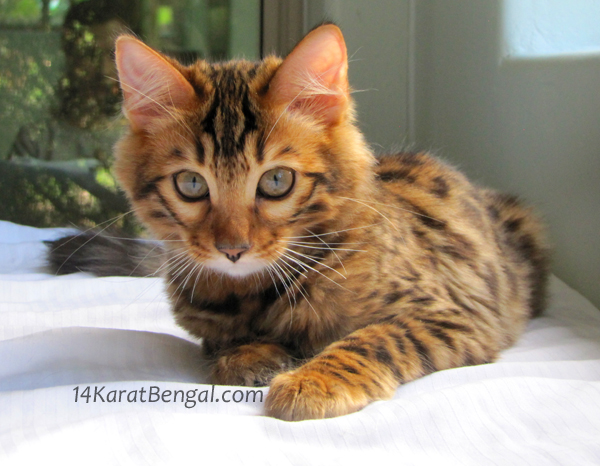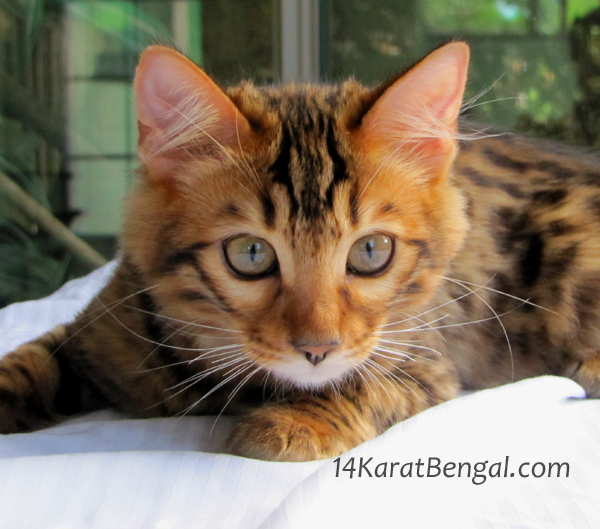 He has a Gorgeous Face, Large Eyes & a Lovely Strong Chin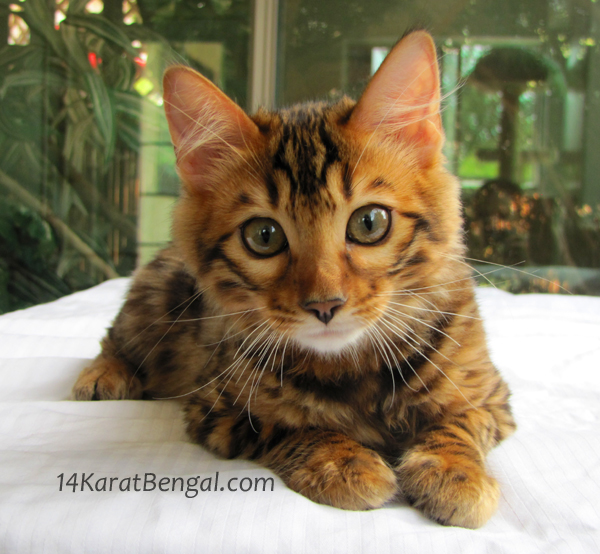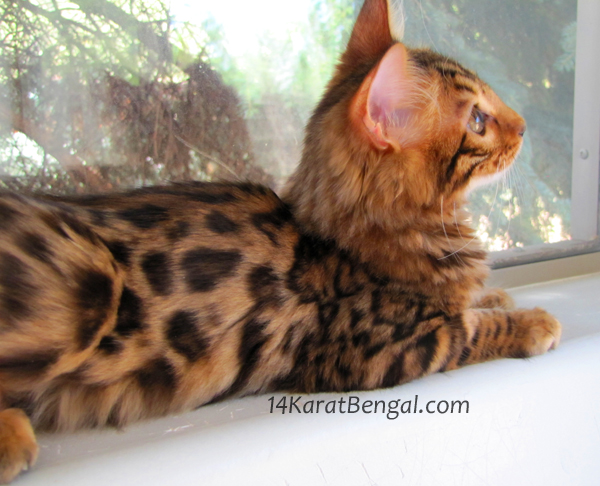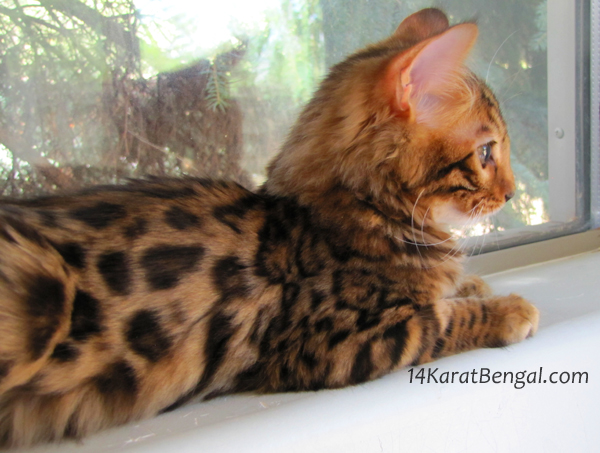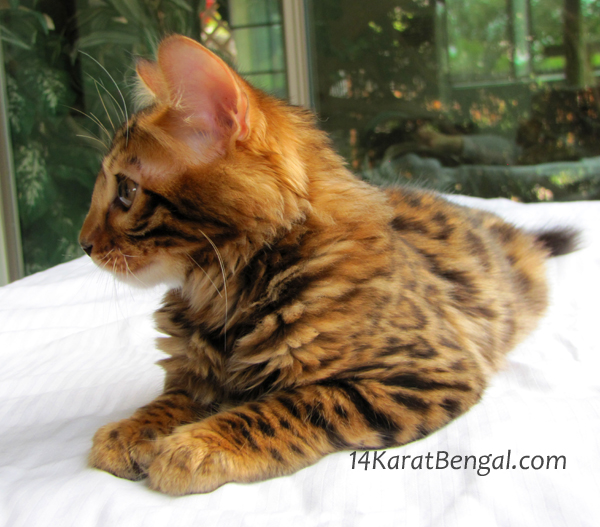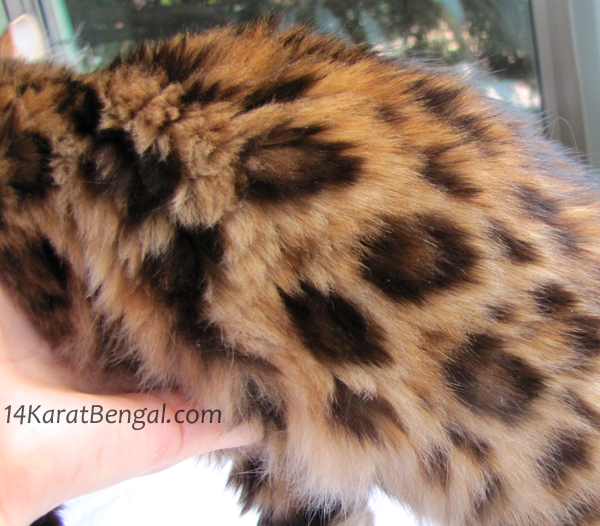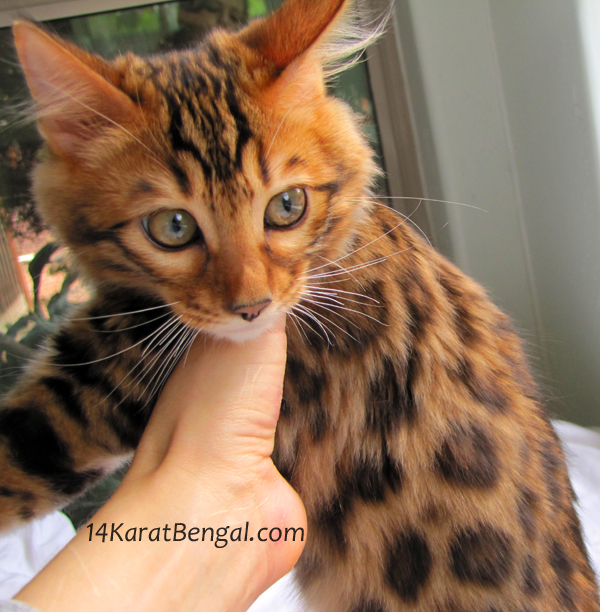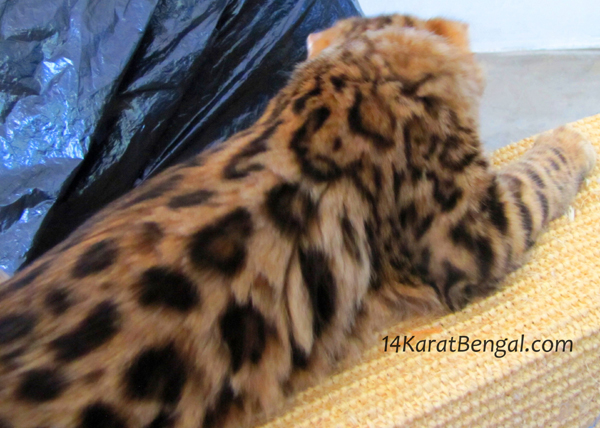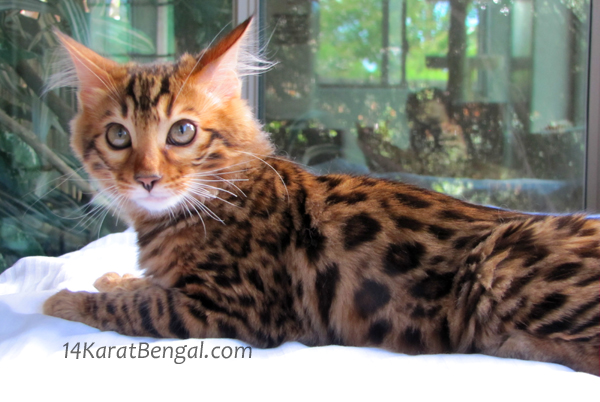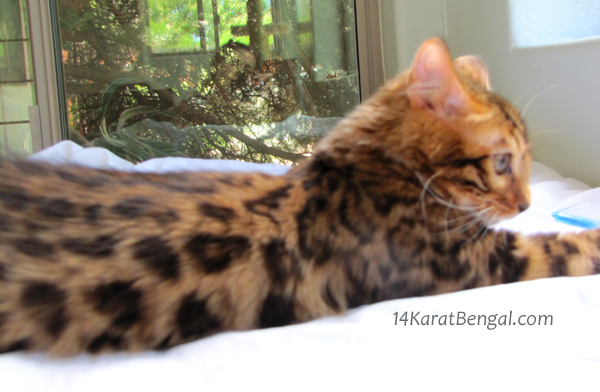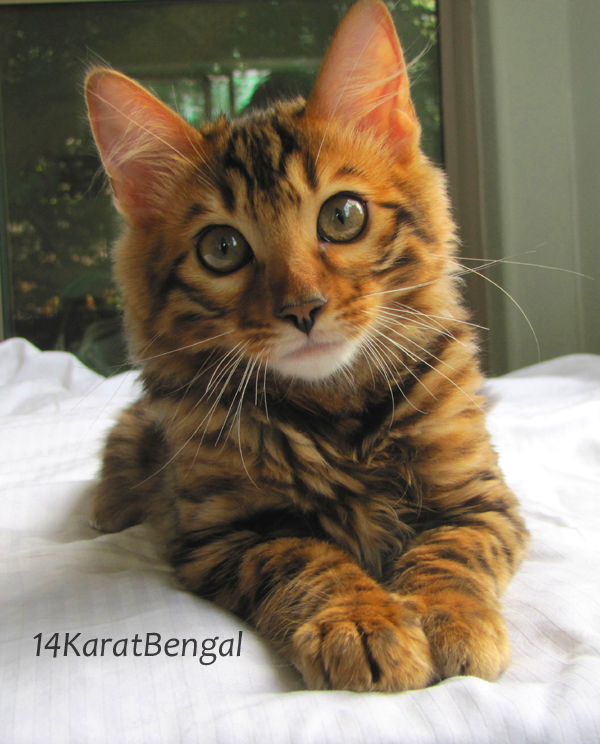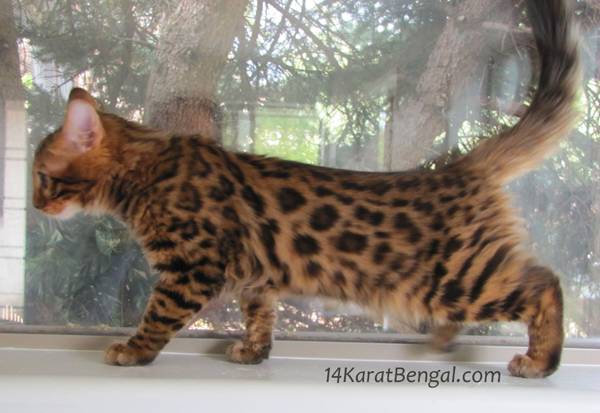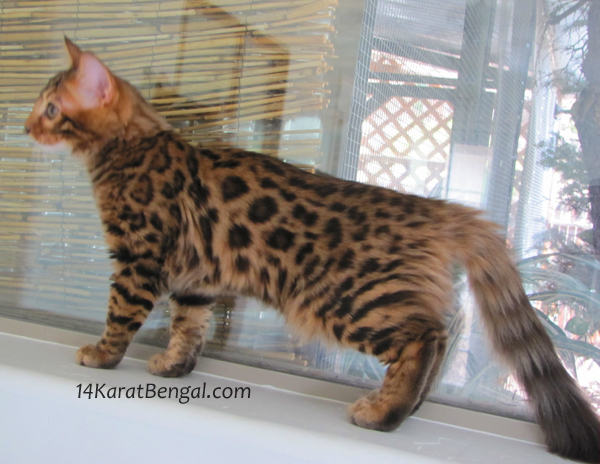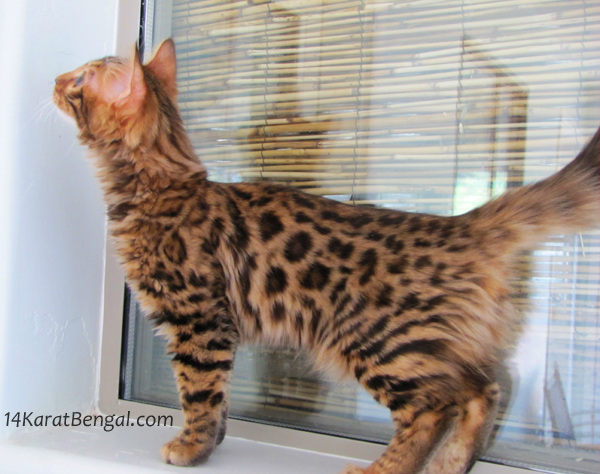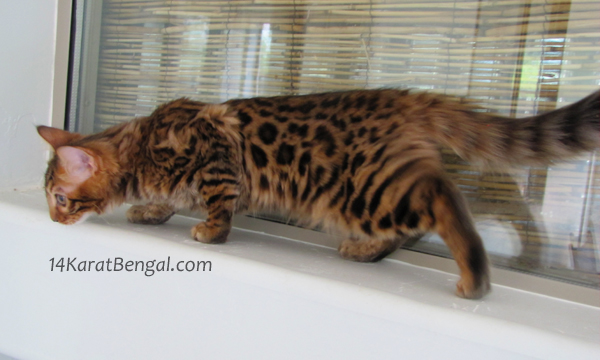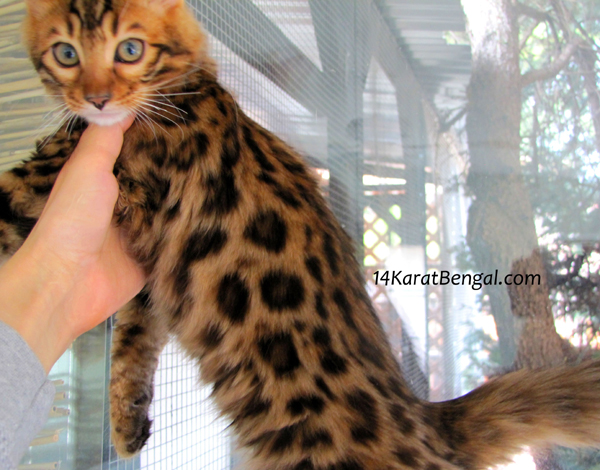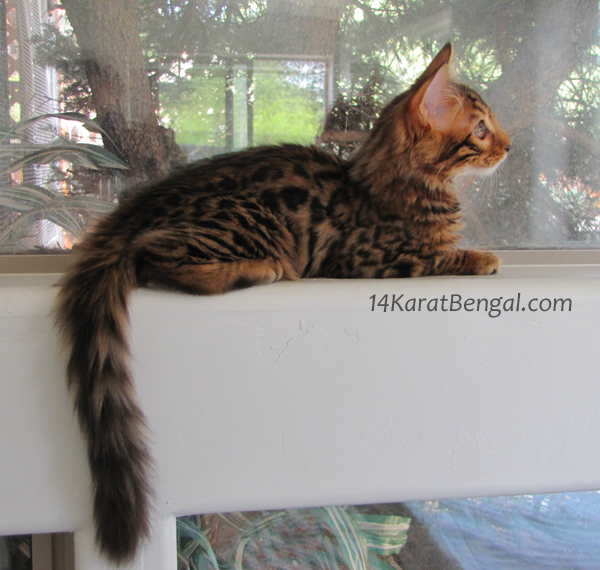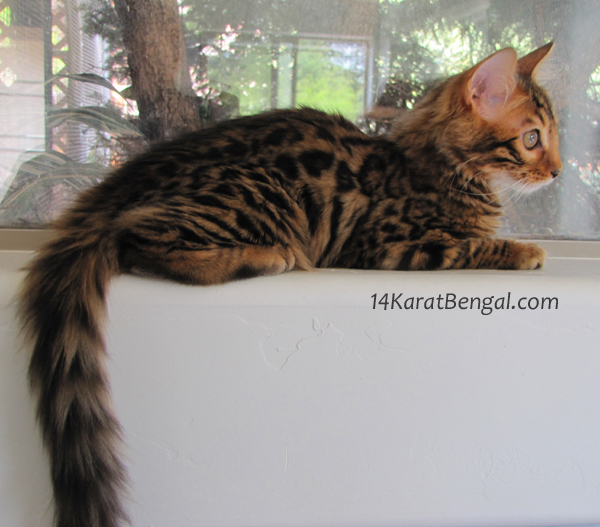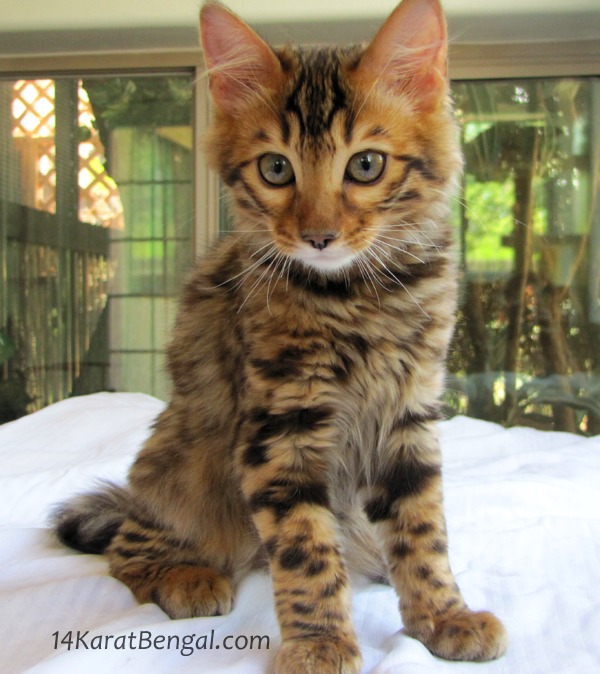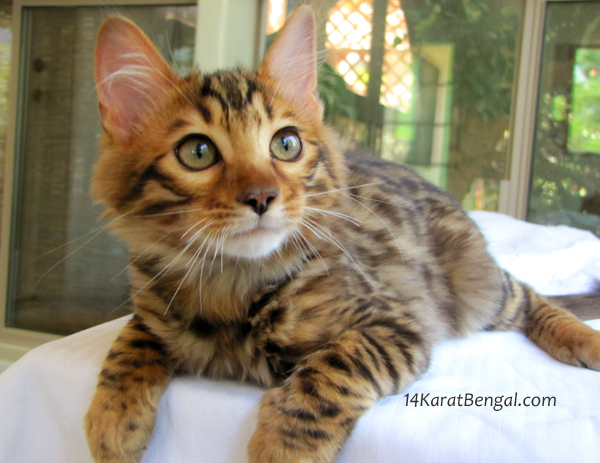 Gorgeous Black Outlined Rosettes, Very Colorful Background, Fantastic Contrast.
Lovely Low Tail Set, Beautiful Wild Body Type, Very Flowing Rosetted Pattern.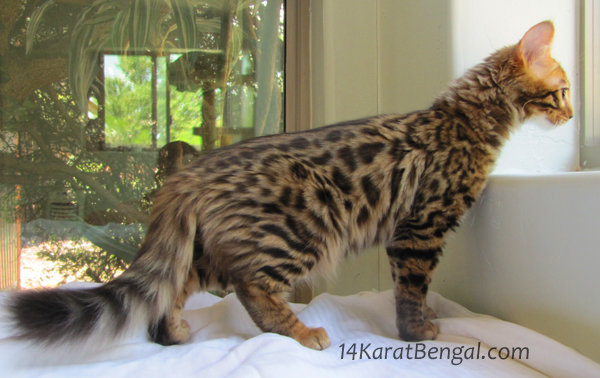 Gorgeous Leopard Cat Profile, Lovely Long Neck, Fabulous Body.
Lovely Head and Exceptional Profile - Expect Flynn to develop lots of rich warm reddish coloration throughout his coat.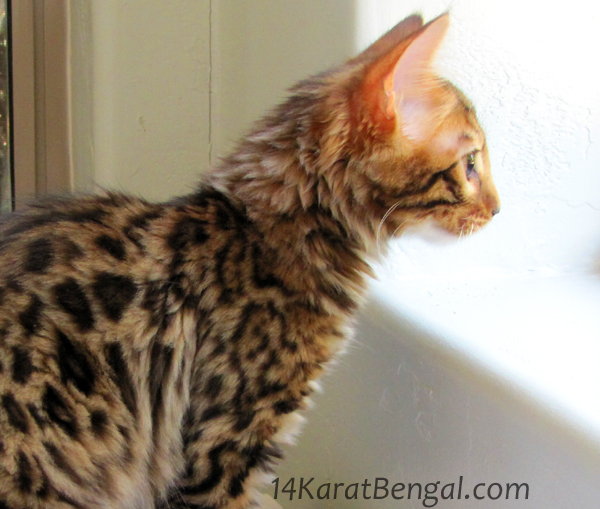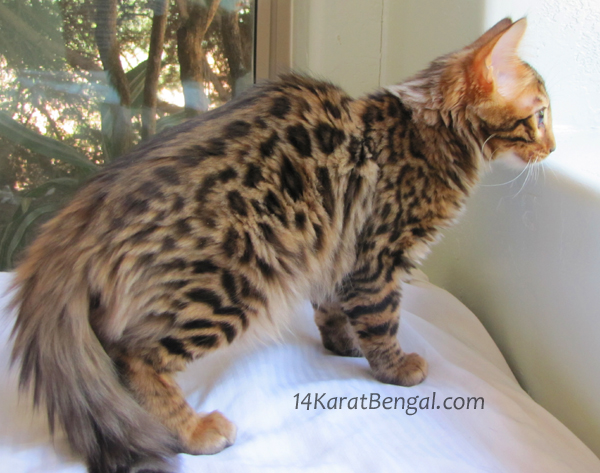 Beautiful Face with very Sweet Expression, Lovely Strong Chin, Rounded Ear Tips.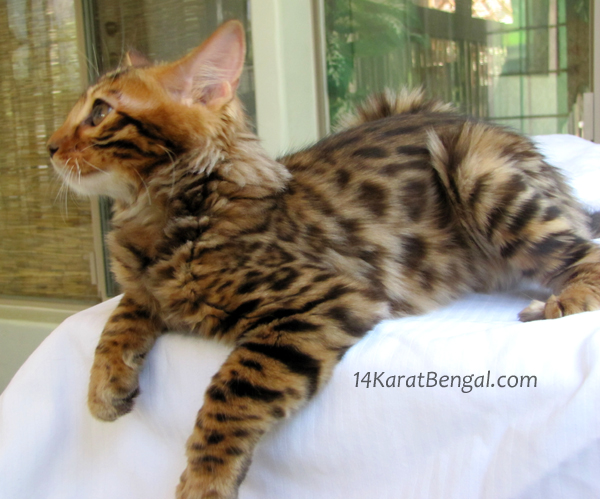 Flash of Camera washes pics out - Tons of Black Spots going down clear to the end of toes!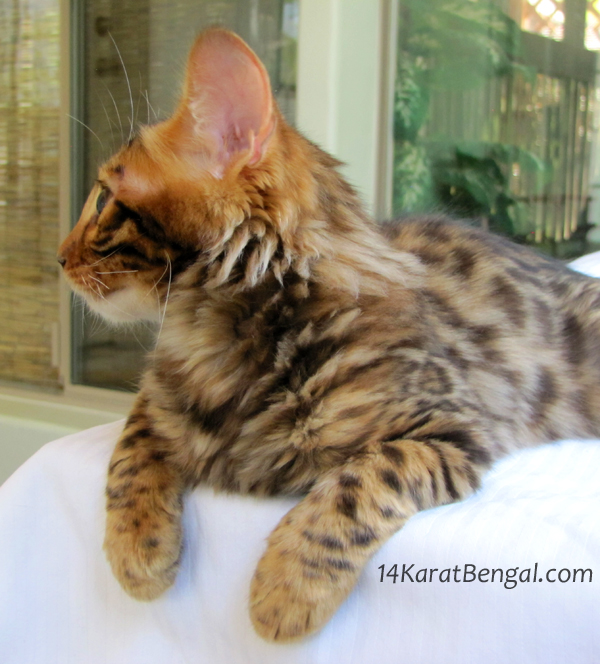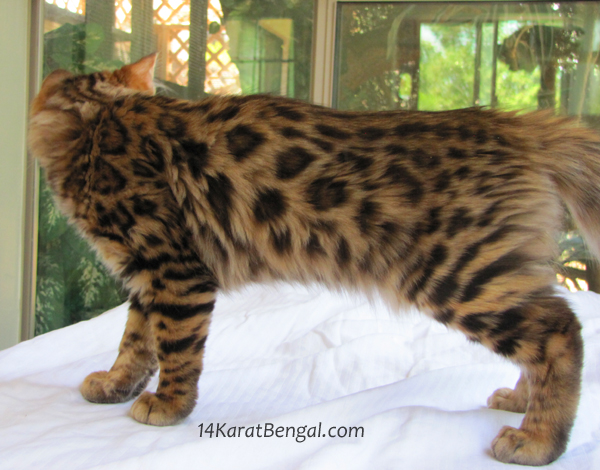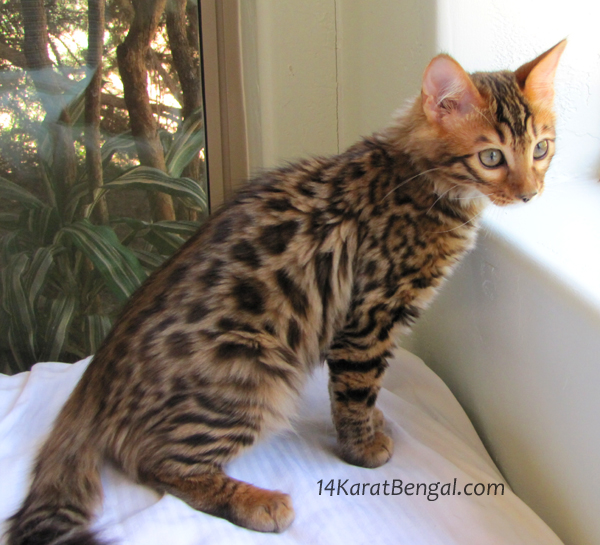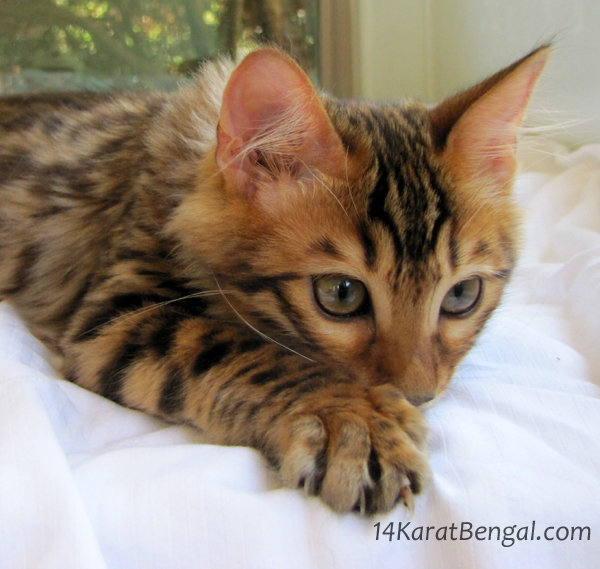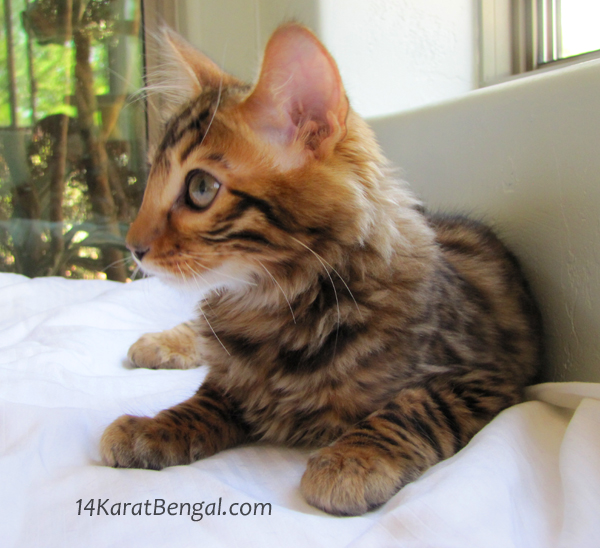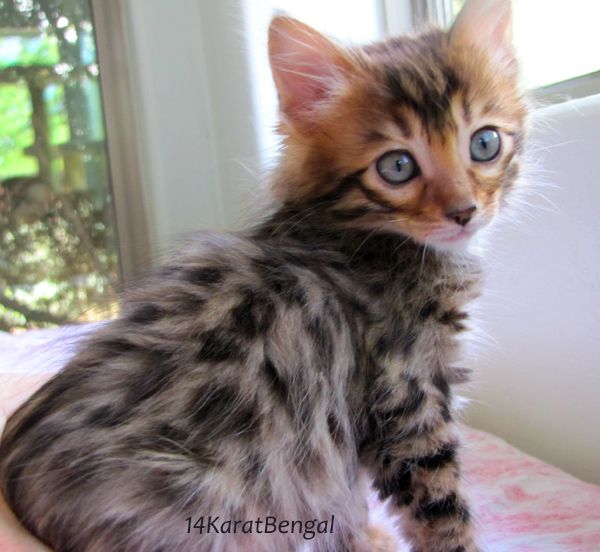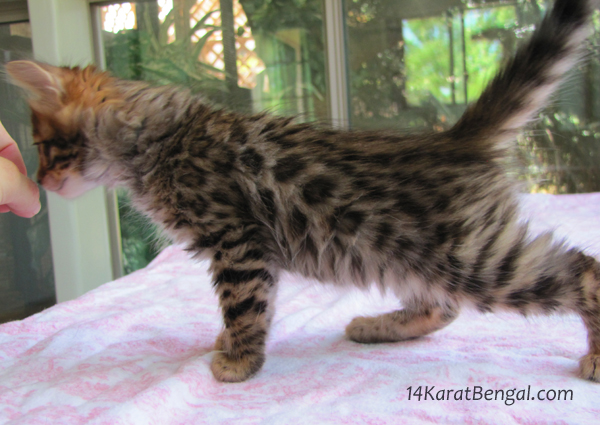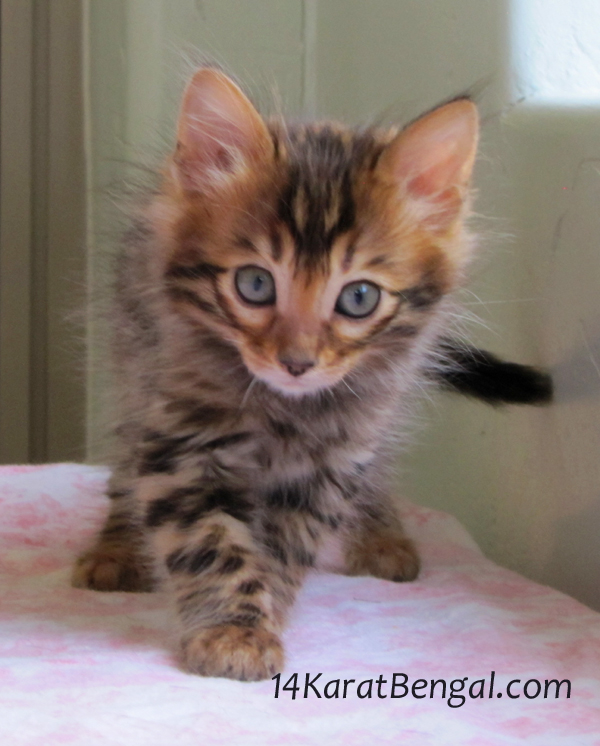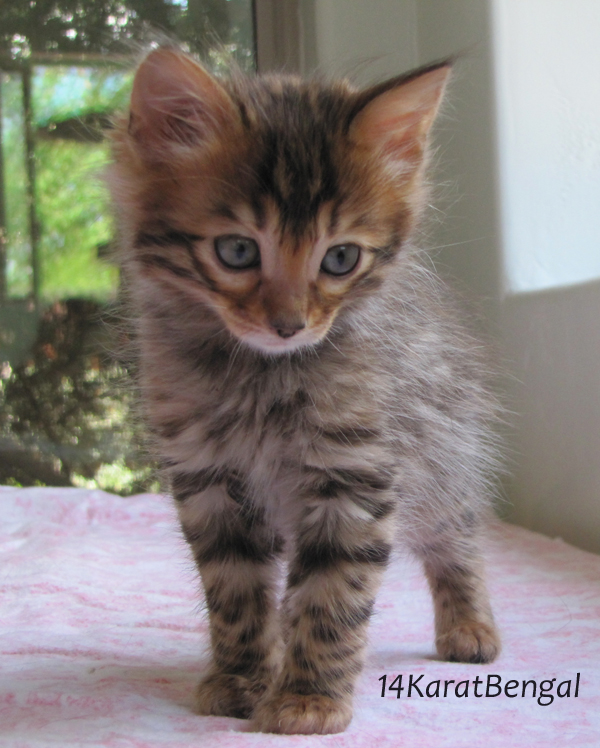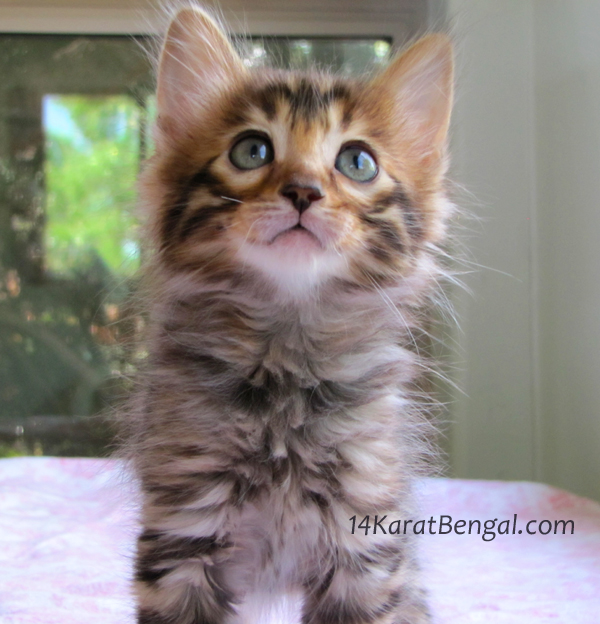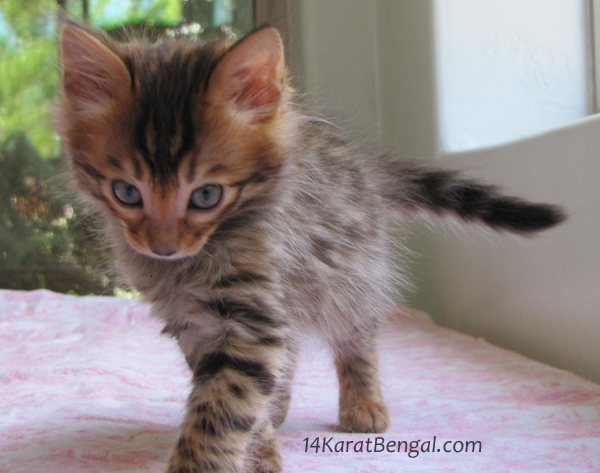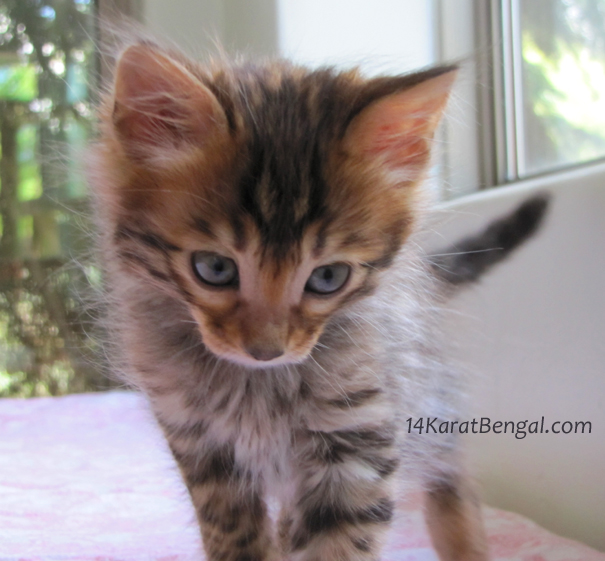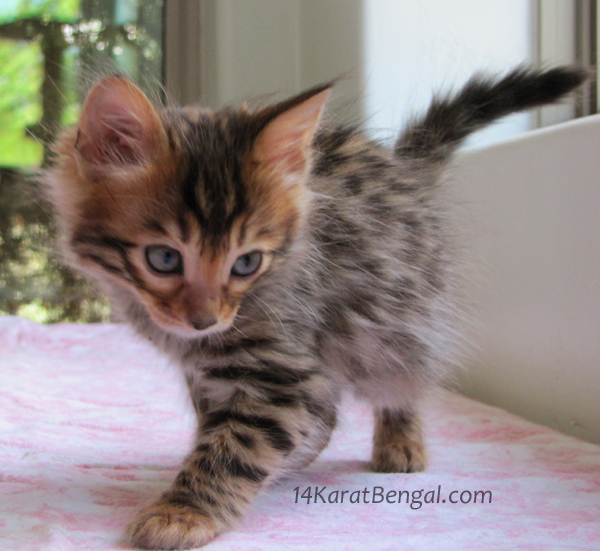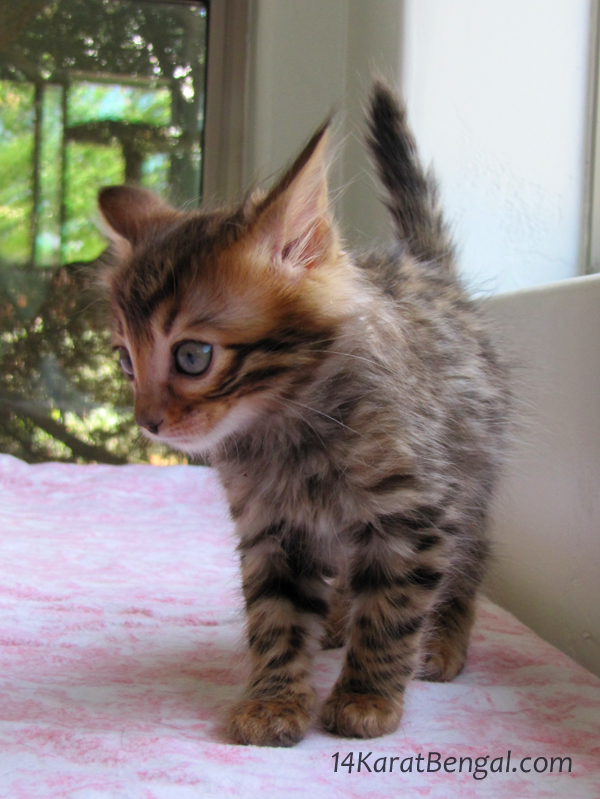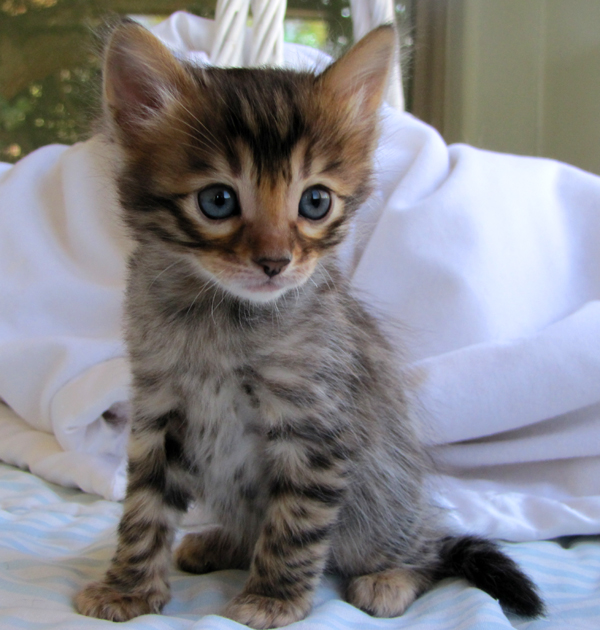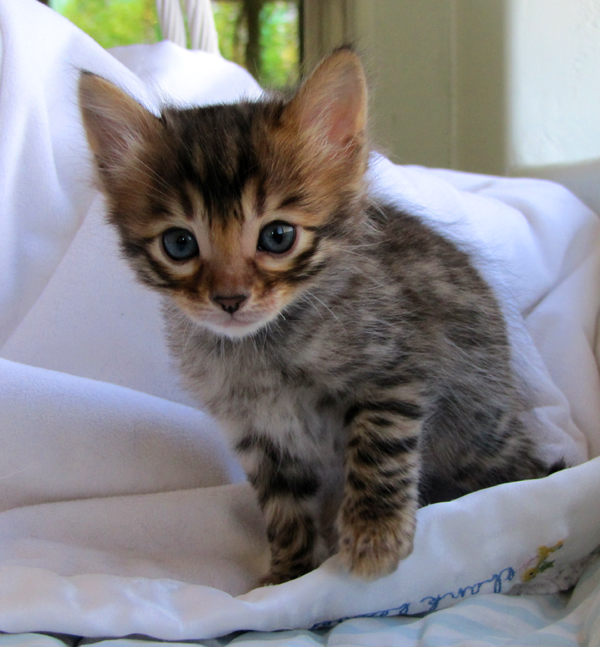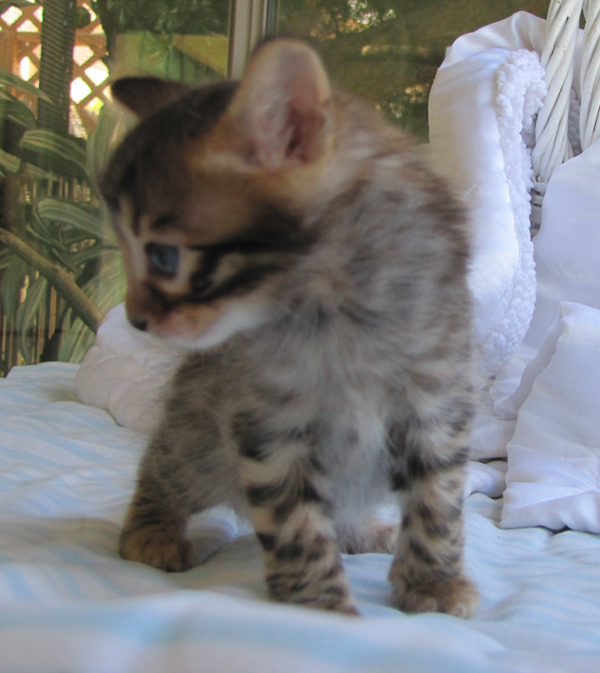 ---
Gorgeous Cashmere with INKY-BLACK outlined rosettes, fantastic typey body and head, wonderful face. VERY social/friendly - is constantly climbing up into my lap.
Daddy: INDIAINK Sakima of 14KaratBengal ; Mommy is the daughter of CALCATTA'S LA MAR of AMANTRA X BEAUXMONDES Feather Dance (Fantastic pedigree)
14Karat Bengal Cashmere Baby Boy "Monroe"; renamed "Talal"
Sold to Meghan :)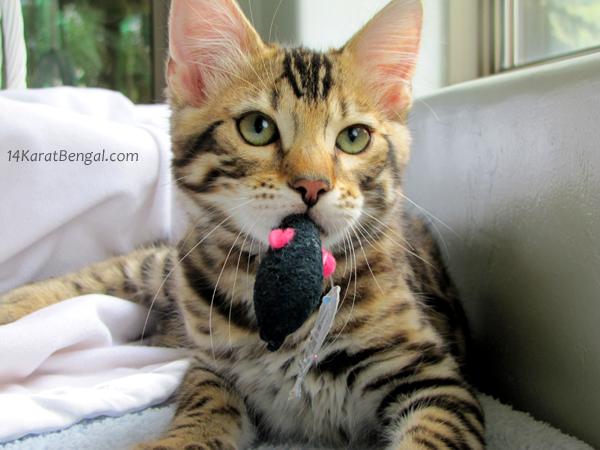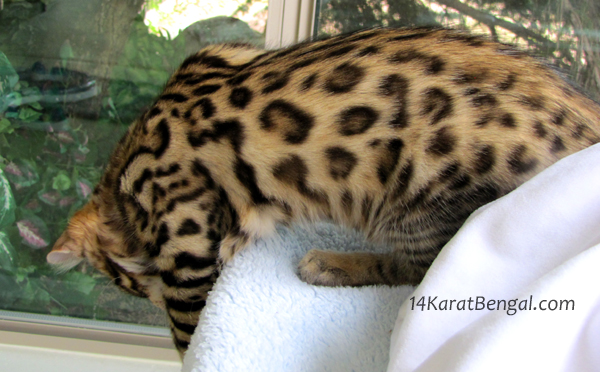 I breed for the LOW-LYING coats. When a Cashmere Bengal has a low-lying coat markings are highly visible and gorgeous.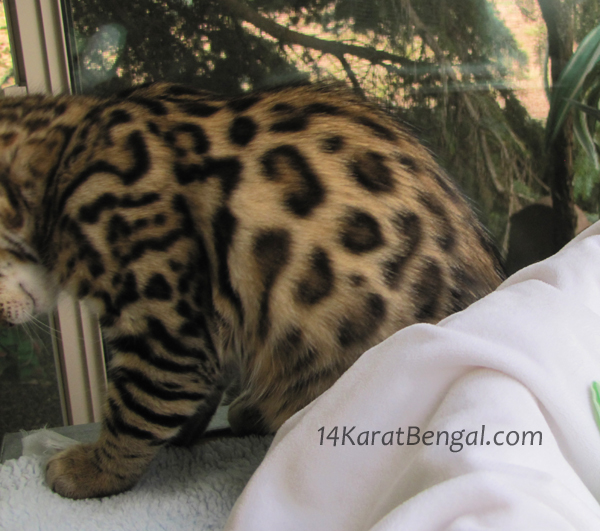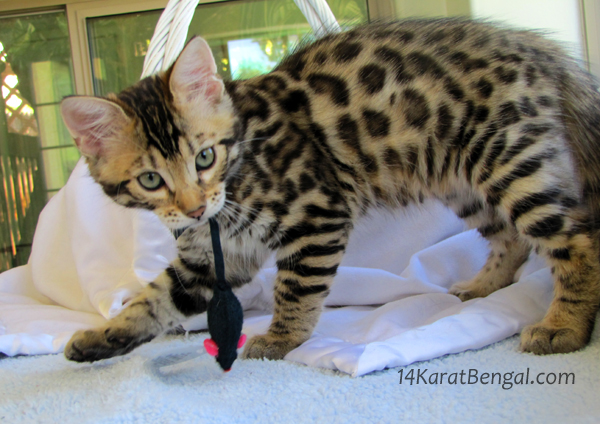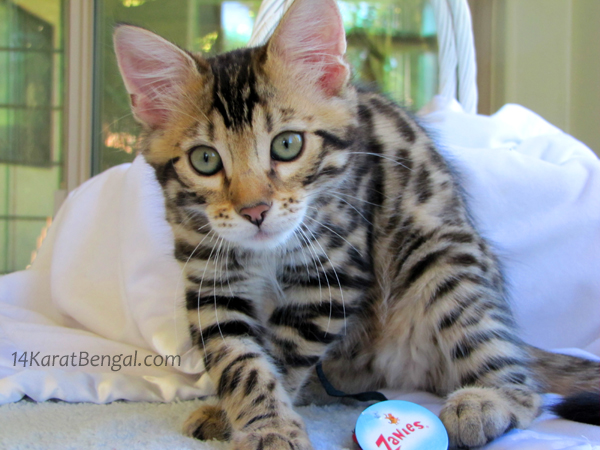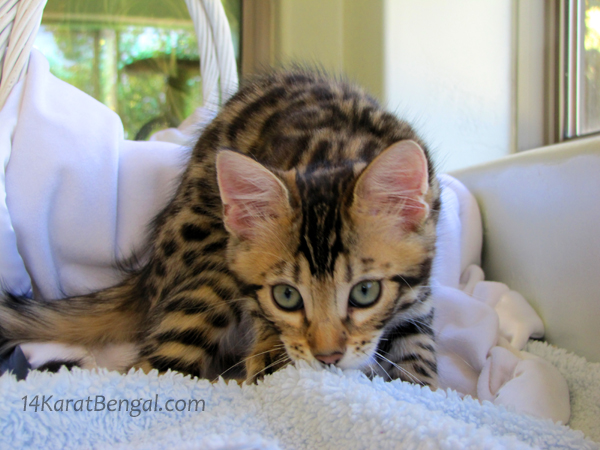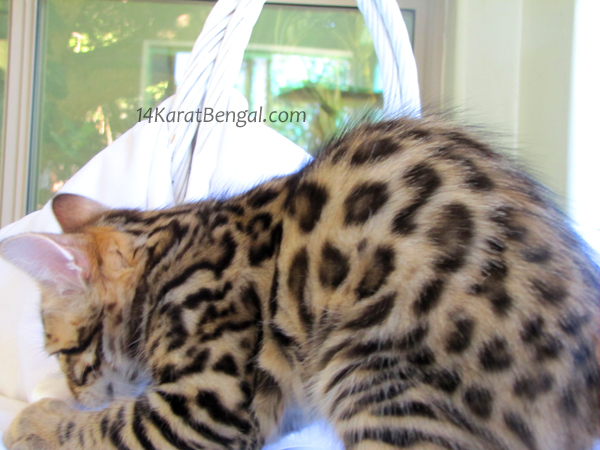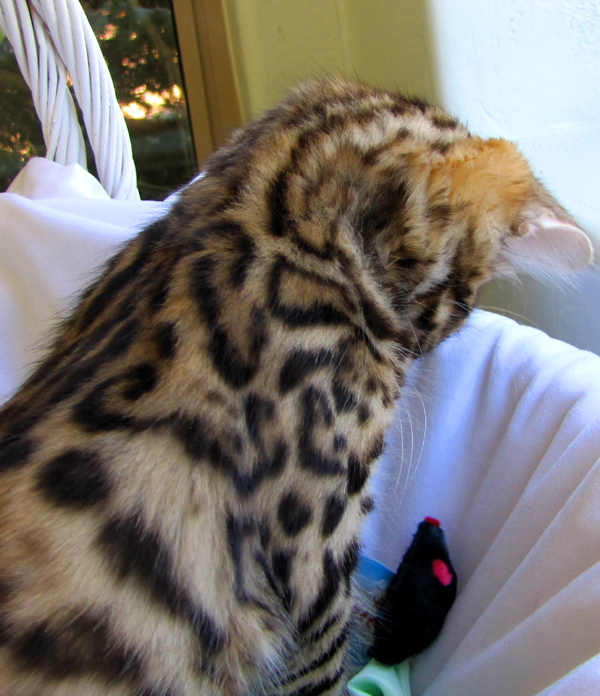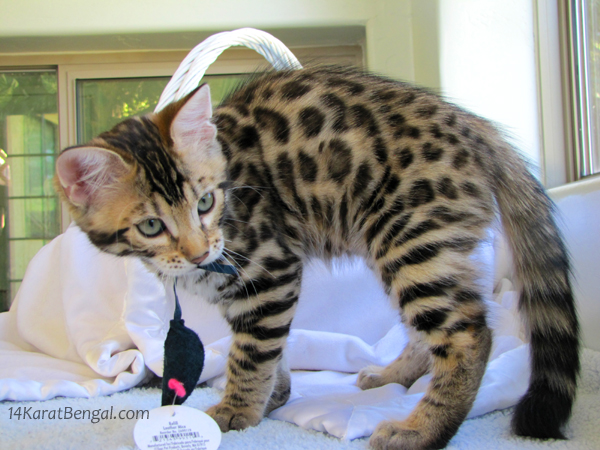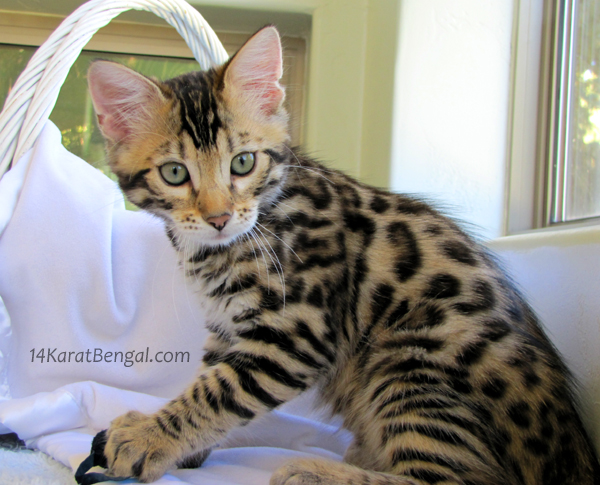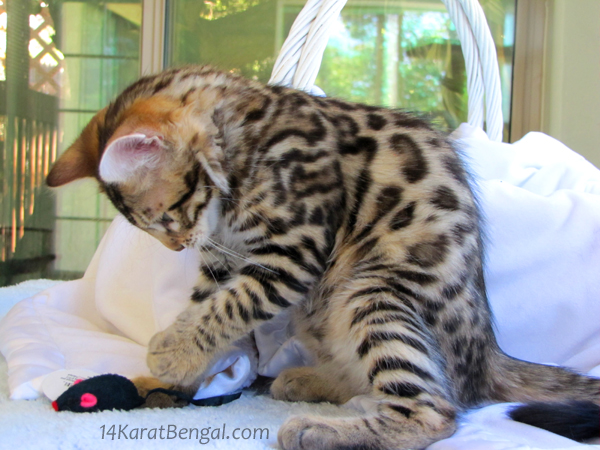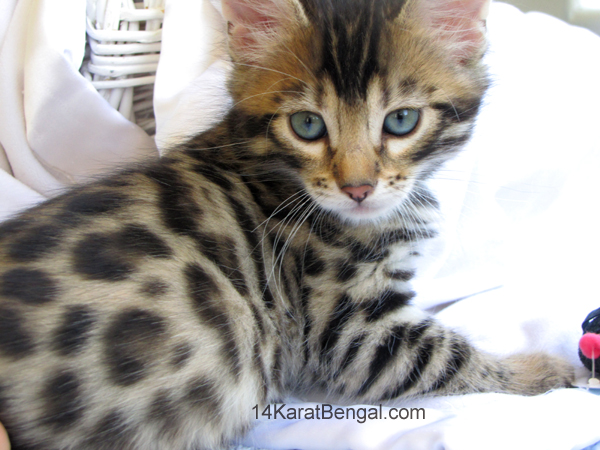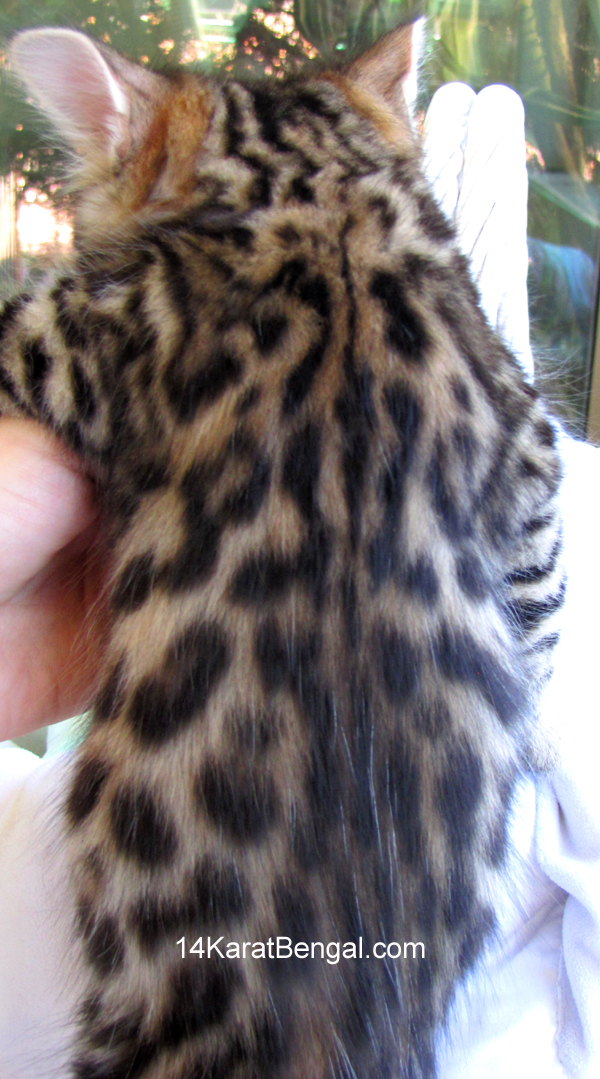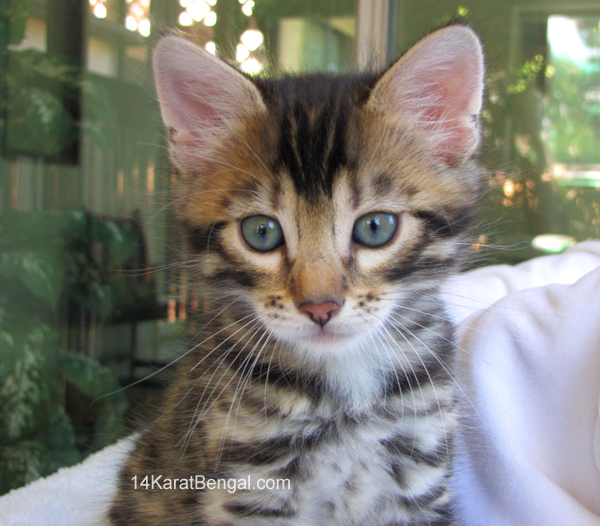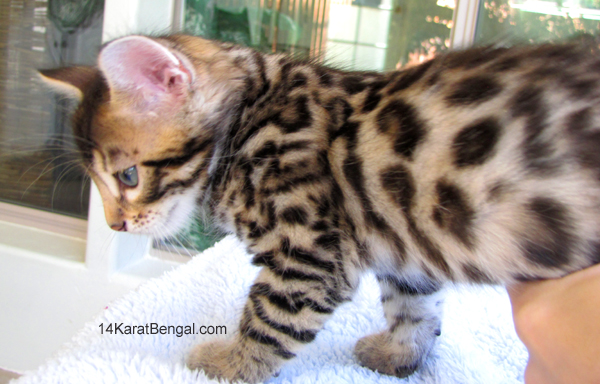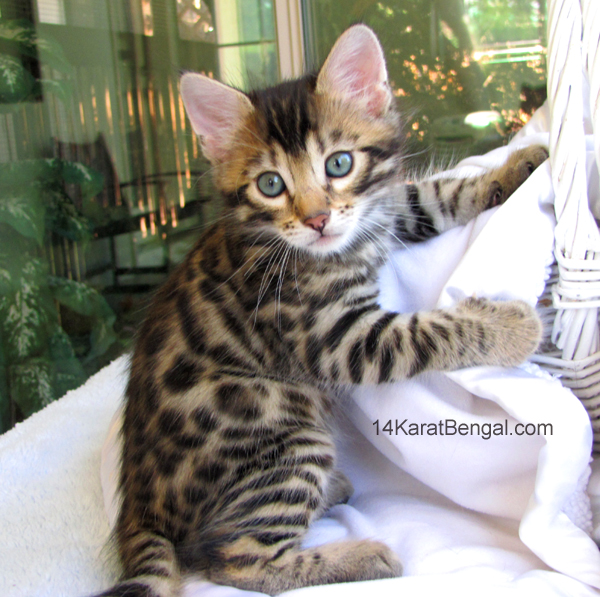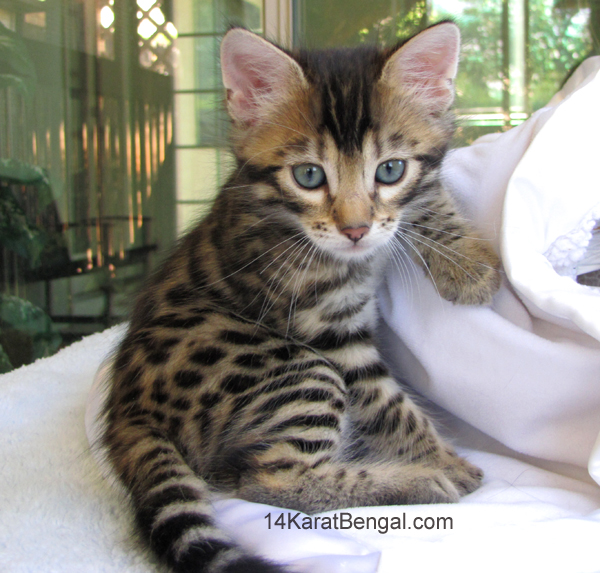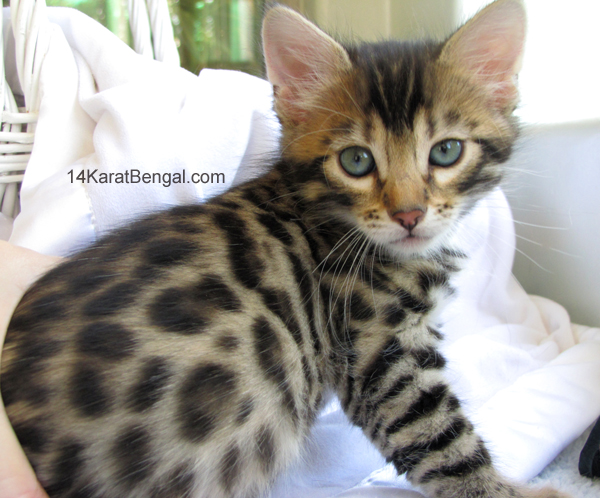 Below Photos are very washed out but they show his fabulous body well.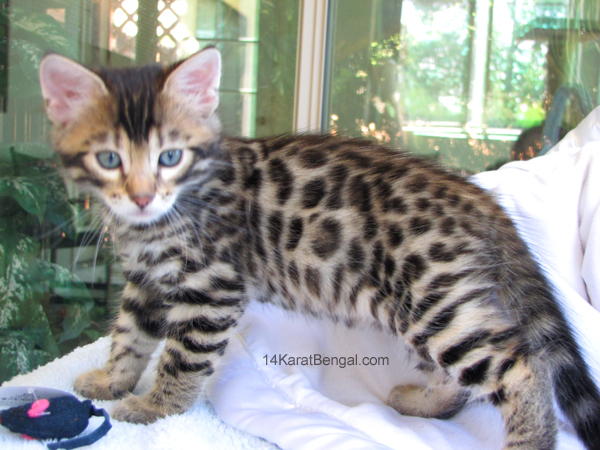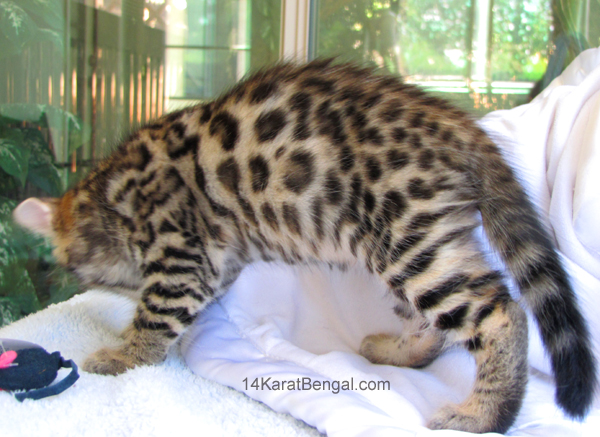 Above Photos taken on August 27,2014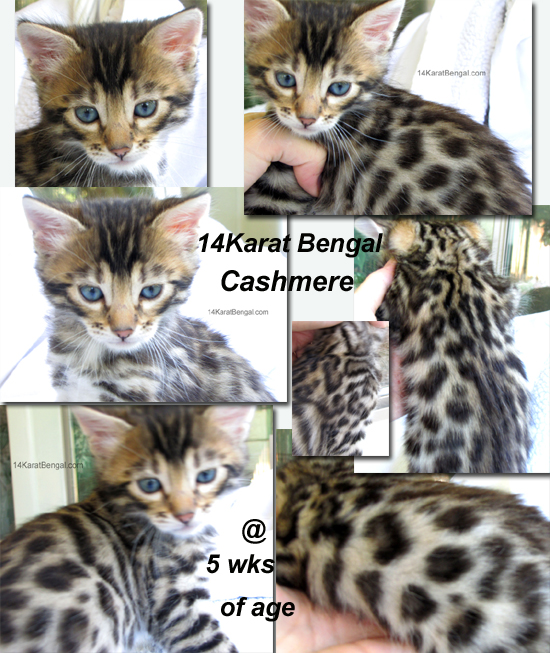 ---
---
Another EXCEPTIONAL, Very Sweet, Loving, Social Cashmere Baby Boy! I am VERY proud of this AMAZING Bengal boy! Everything about him is absolutely stunningly gorgeous! Fabulous Pedigree -
Father, 14KaratBengal Supreme Wurth, is down from the very famous WURTHY-line and mother is from some wonderful JUNGLEBOOK lines.
14Karat Bengal Cashmere Baby Boy "Dallinger"
Dallinger has developed Gorgeous Rich Red Coloration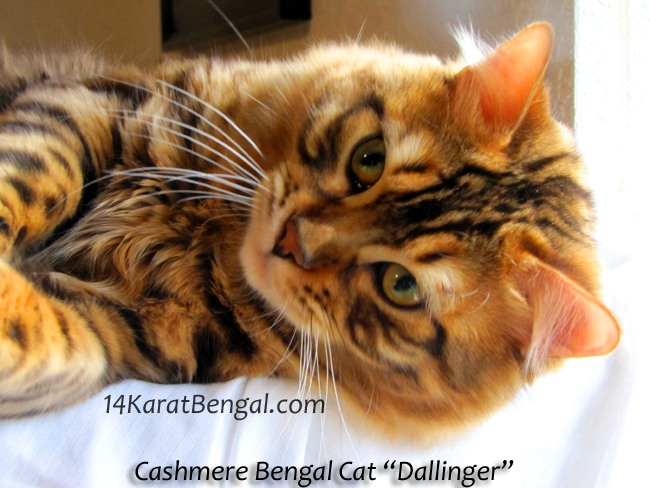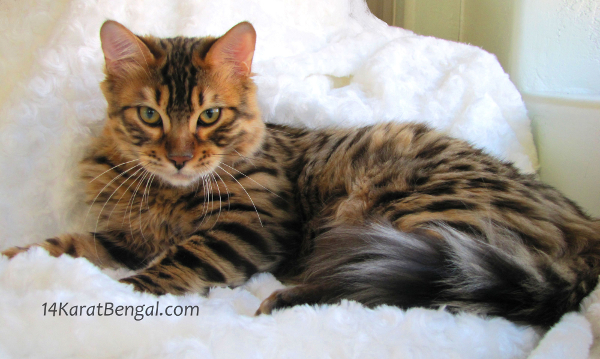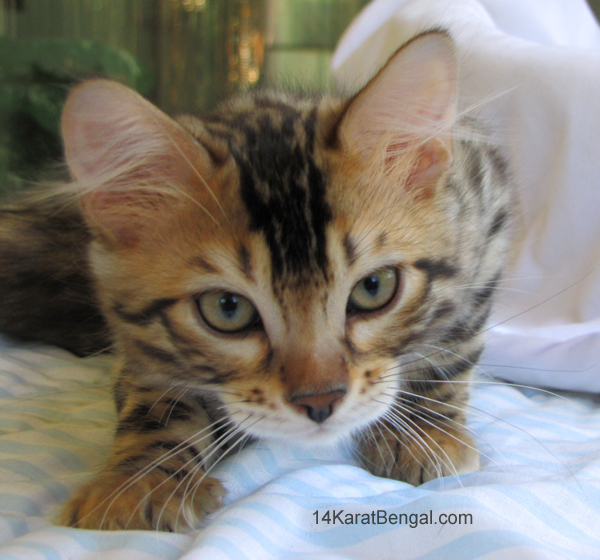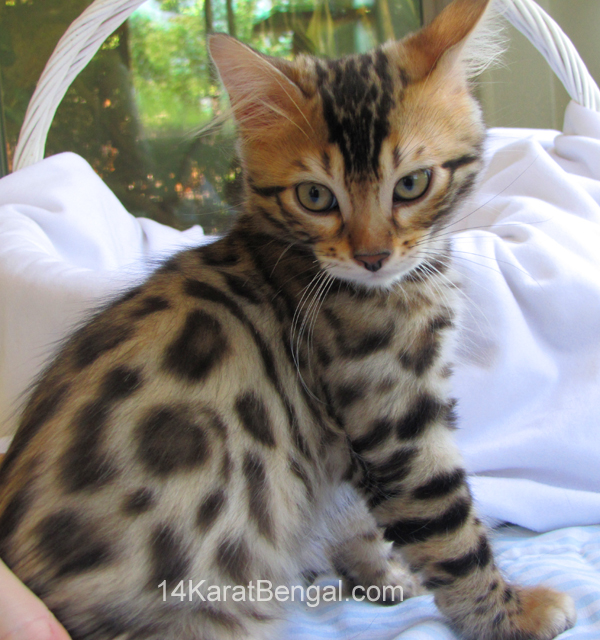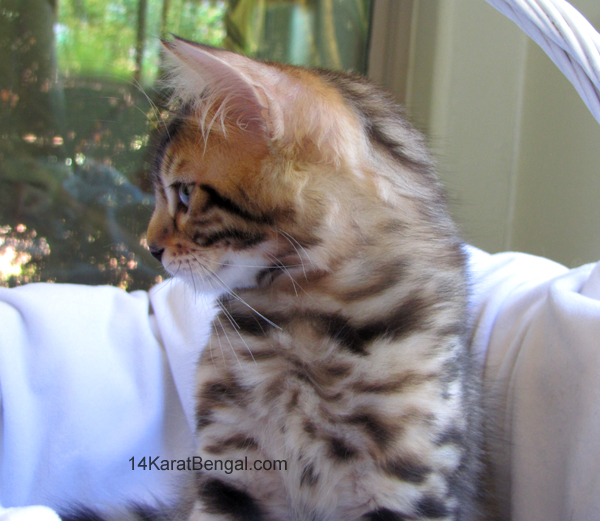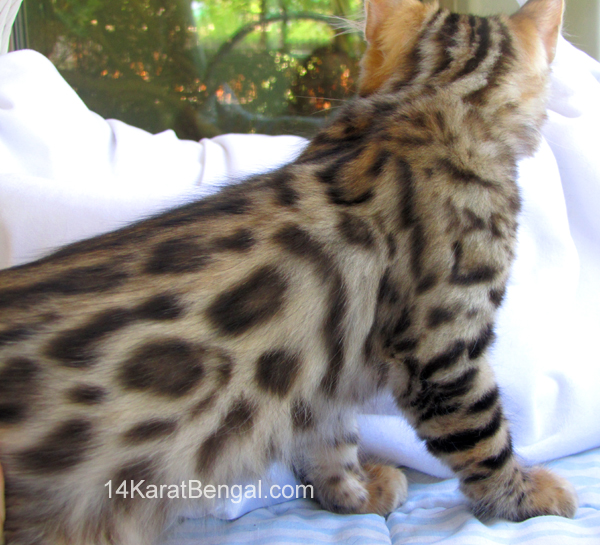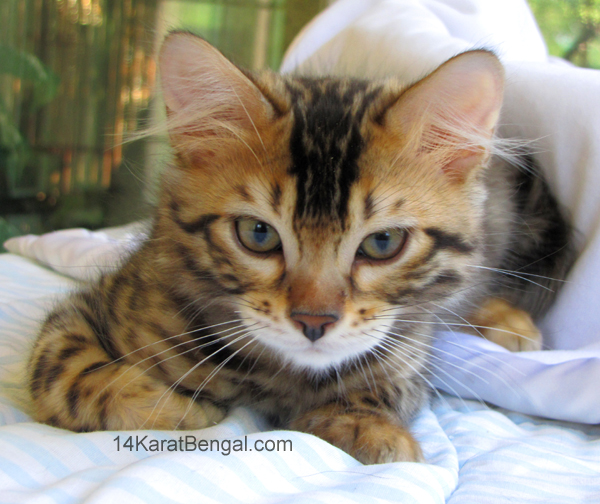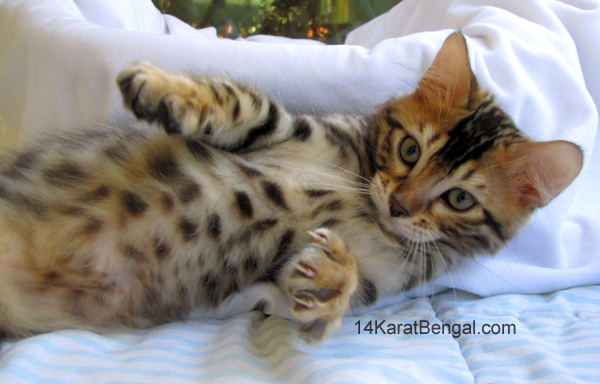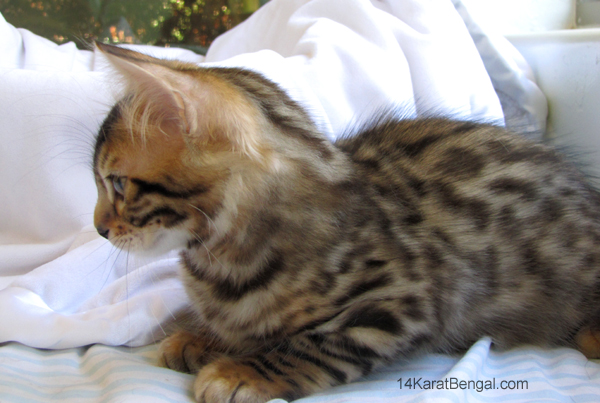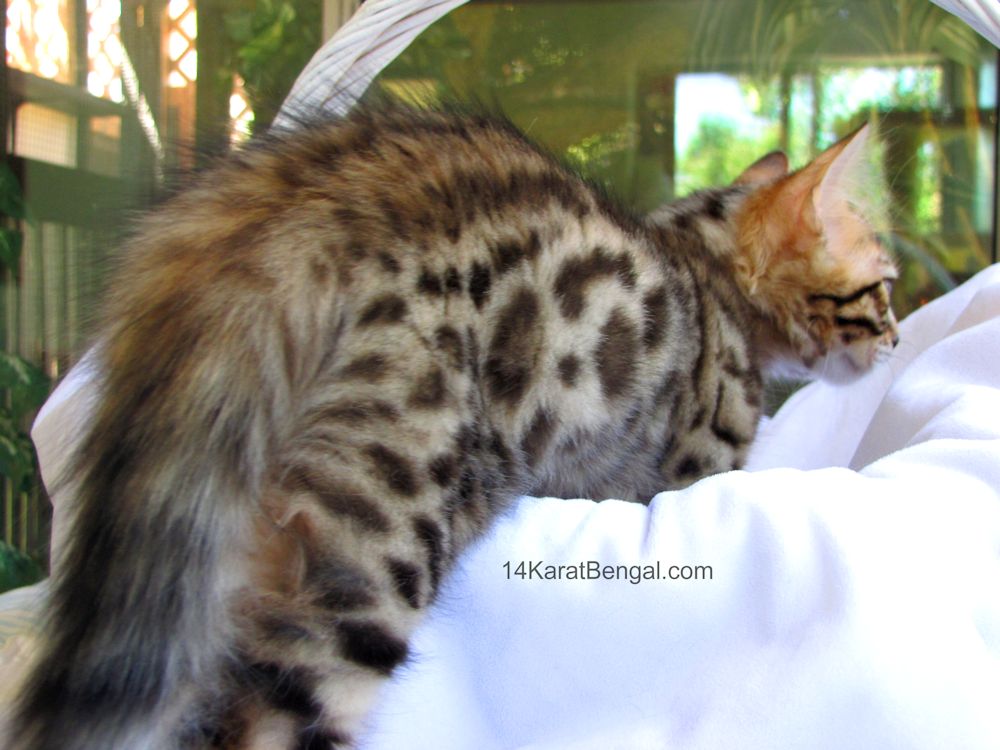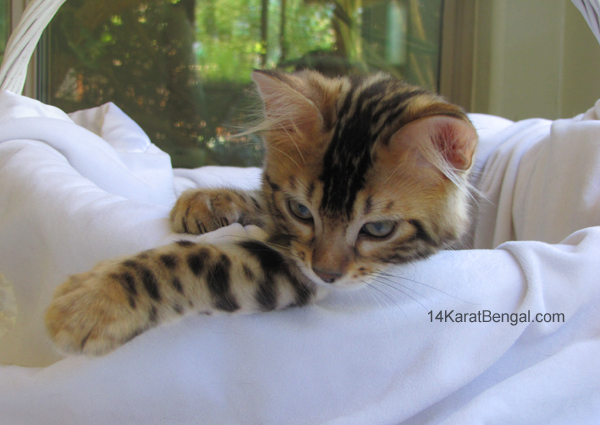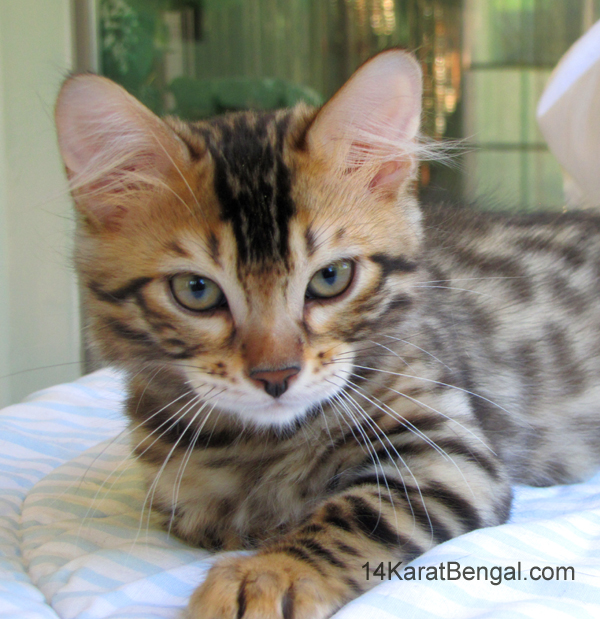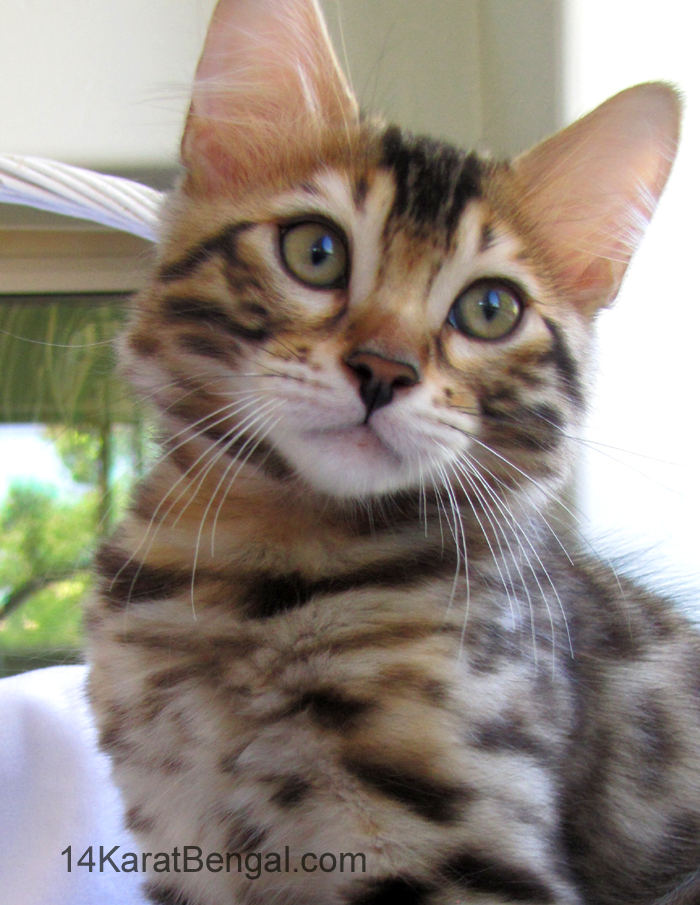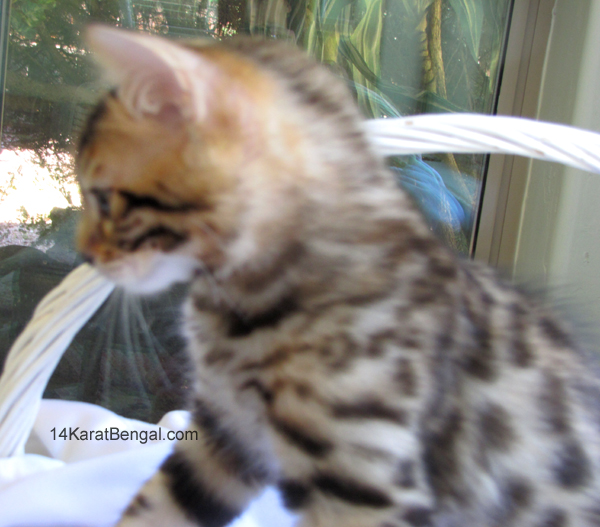 All Photos Above Taken on August 28, 2014.
All Photos Below Taken at 7 Weeks of Age.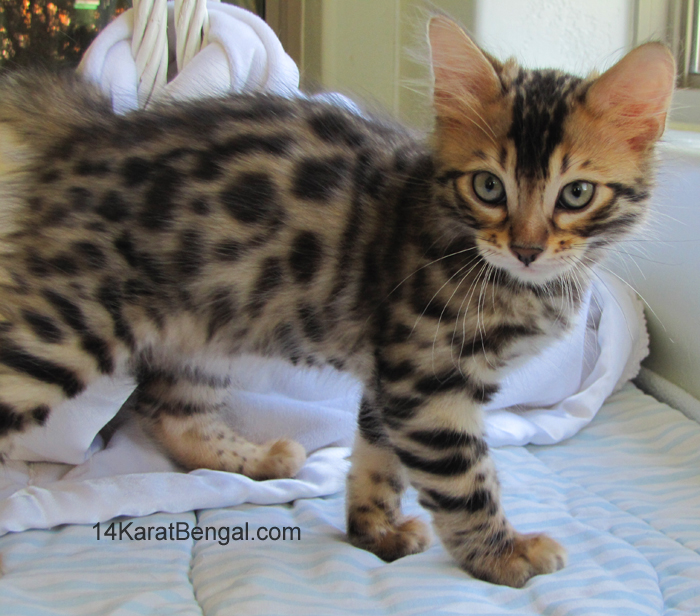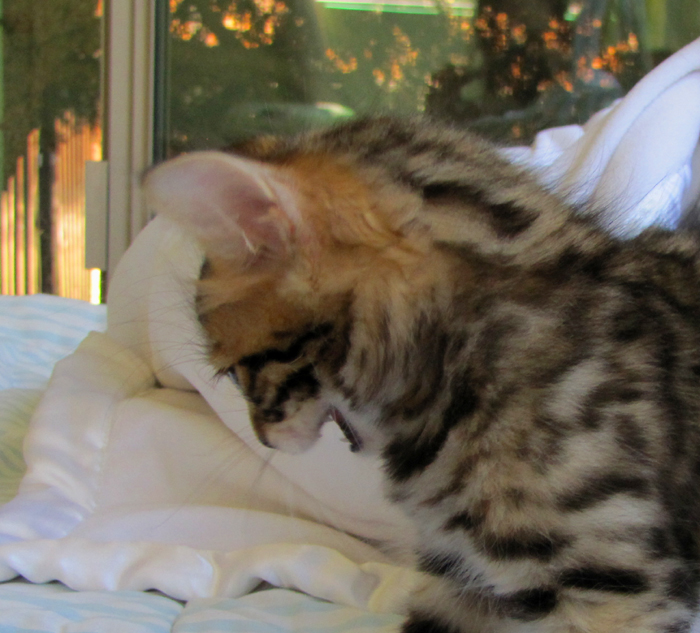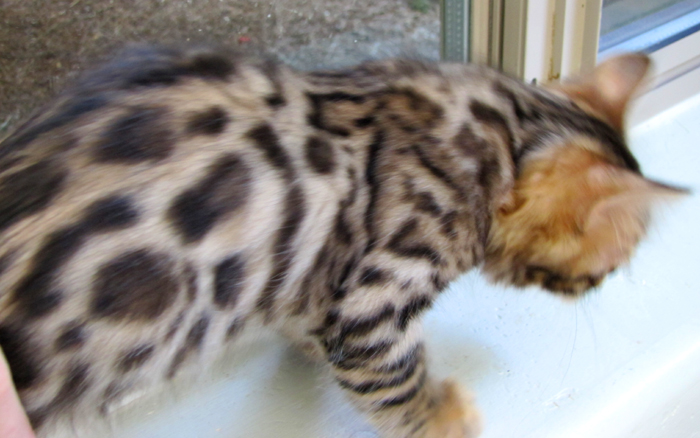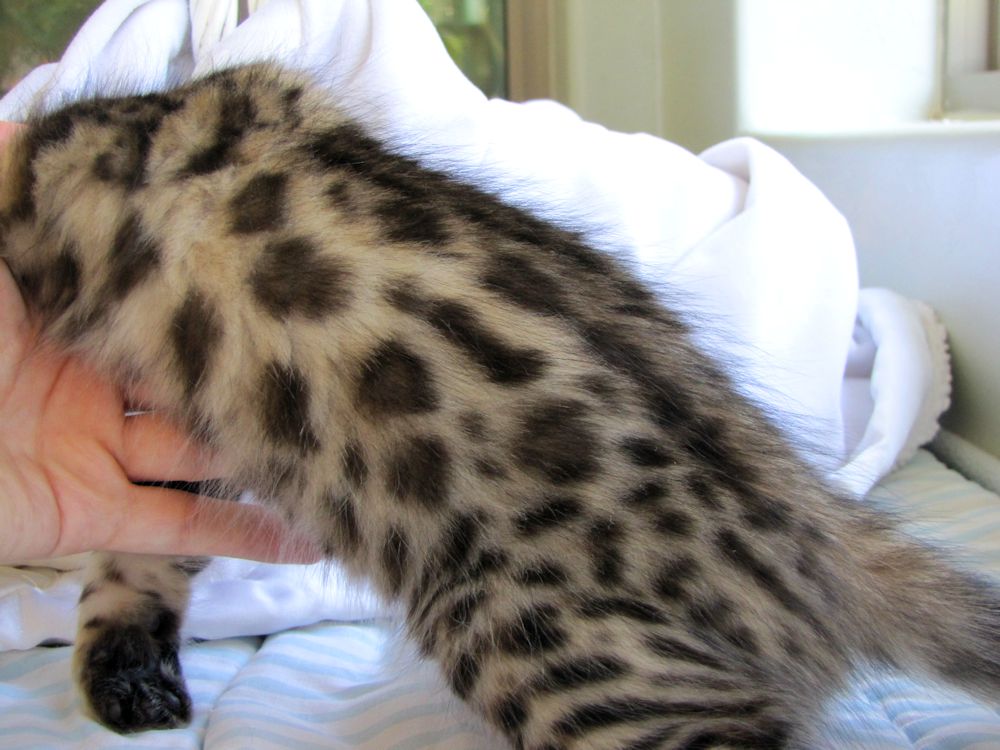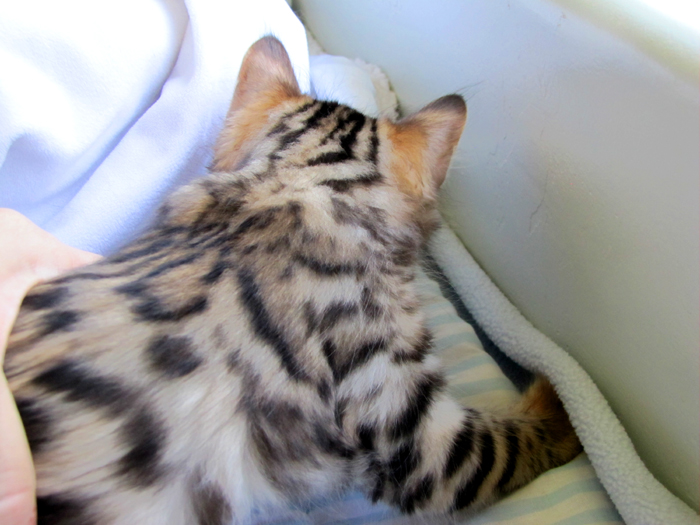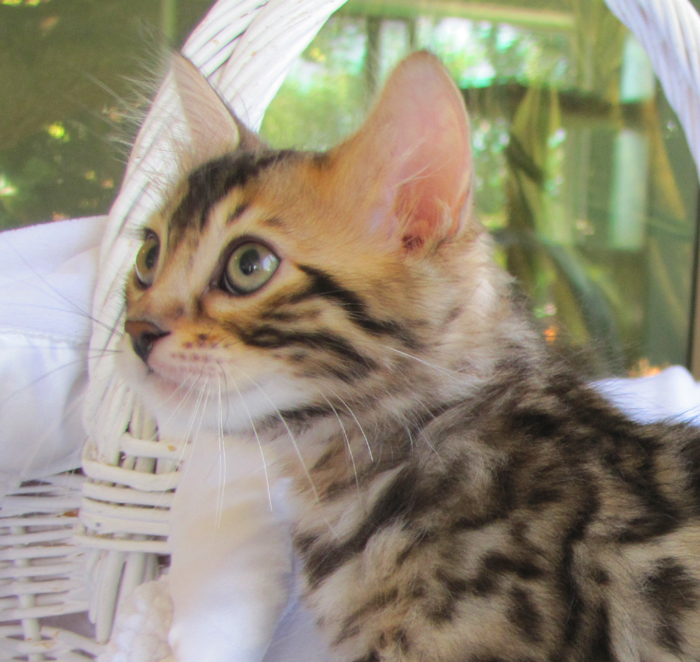 ---
Gorgeous, Exuberantly Loving Cashmere Bengal Baby Boy - not currently available
Same Fabulous Pedigree as Baby Boy Above