14Karat Bengal Studs
14Karat Bengal Studs are trained to wear 'stud pants' so they can enjoy their time by my side roaming freely throughout my home. (studs will & do mark their territory) This not only shows how extremely Well-Handled my cats are but it also takes a lot of extra time for me - keep in mind that I have to be in-tune and remove their panties when they have to 'potty'. Also, it is a lot of extra expense as my boys use, on a daily basis, 4 stayfree overnight pads.
I am very proud of my boys! Not only are they gorgeous but they are the absolute sweetest and most loving cats. Be sure to scroll down to see all of my spectacular boys!
14Karat Bengal does not offer stud service. My beloved stud muffins will either remain with me or will be placed into carefully approved homes "neutered" prior to leaving my home.
IndiaInk Sakima of 14KaratBengal

I searched for years for a gorgeous red colored Bengal boy who had not only a solid, healthy ancestry but also an exuberantly loving and affectionate "velcro" kitty temperament. I am most grateful to Diane for allowing me to purchase Sakima! I feel it is an honor to have him as the foundation boy for my program and it is a privilege and blessing to own one of Sakima's babies. Sakima consistently produces very healthy kittens to date. Sakima is a beautiful boy with a wonderful profile, big eyes, very rounded ears, fabulous looong body, long neck, amazing, rich, red-rust coloration with lots of golden tones, great contrast with black outlined rosettes and he is dripping in glitter. He also has excellent, beautiful movement. Please click on the link below to see more pictures of my beautiful Sakima ~ my "forever kitty." I also feature all of his kittens.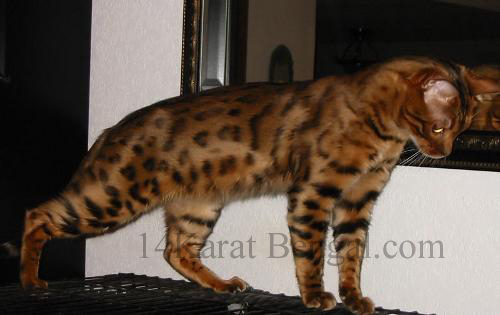 Sakima is 10 years & 8 months of age and has consistently produced healthy kittens to date. Sadly, one of his past kittens fell app. 13 ft in his new home and was injured :( We wish Cheeto to get well soon!
Sakima ~ My precious velcro kitty
Sakima will always be my 'forever kitty.' He is my precious, special baby. A few years back I had surgery and was in the hospital away from Sakima for a week. When I was released from the hospital my parents took me to their house to recuperate for a month and they brought Sakima to their house to be with me. The first night he saw me he constantly gave me kisses...even all night looong. I woke the next morning with my chin raw from his constant licking and kissing me :-) He would not leave my side for the entire month I was at my parents' house except to use his litter box. My parents had to put his food and water bowls up on the bed with me. He is an incredibly loyal and devoted boy ~ A true velcro kitty in every sense. His kittens typically always get his incredible personality too and are the most darling kitties....not to mention GORGEOUS too! Please take some time to look at every single kitten produced by Sakima. I am proud of every single one of his babies. I also have tons of emails from past buyers that I would love to share with you.
Congratulations to Sakima's and Nisaba's baby, Gobi!
Gobi is now "CHAMPION 14KaratBengal Gobi"
---
14Karat Bengal Kashima

Sakima's son, Kashima, is stunning! He has a beautiful head, wonderful profile, loong body with strong boning, long neck, rich coloration with humongous, chunky-black outlined rosettes. His markings are even larger in person! Kashima is an incredible Bengal boy. He also inherited his father's very sweet and exuberantly loving personality and will knead a stranger's face when picked up! He is a doll and loves to be held. Be sure to click on his link to view tons more pictures!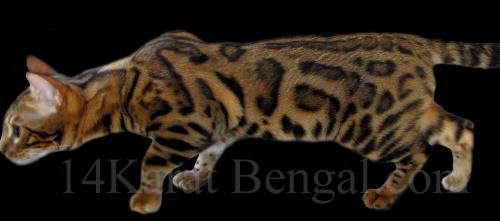 ---
14Karat Bengal Golden Sabu

My precious Sabu is my special baby who goes everywhere with me! He rides right in my lap when I am driving and he is my constant lap warmer. He is a head butter, kneader, kisser, nose rubber and so overly exuberantly loving just like his daddy. He has very black outlined markings, rich red/golden coloration and the most spectacular shoulder markings that Sakima always seems to stamp onto all of his babies. Sabu has very large nocturnal eyes, a wonderful head and an incredible face with a very sweet expression. Please click on Sabu's link to view more pictures and also to see all of his past kittens.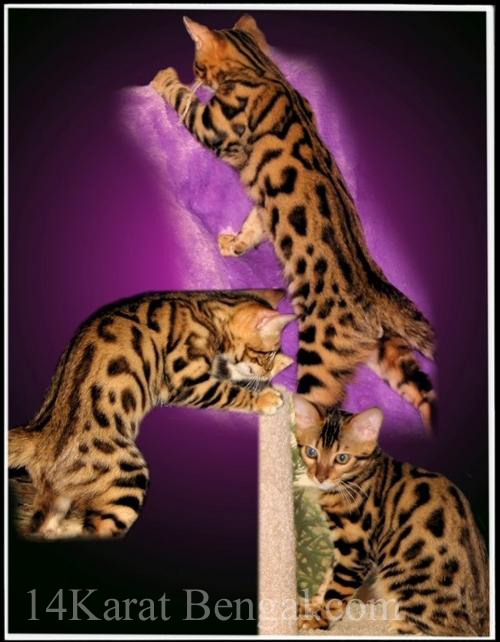 Thank you Brigitte McMinn of Bengals Illustrated for creating such a beautiful collage of my gorgeous Sabu! Sabu was featured in Bengals Illustrated, a very prestigious award winning Bengal cat publication.
---
14Karat Bengal Supreme Wurth

Supreme Wurth was destined to inherit a fabulous profile down from not only Sakima's line but also from the fabulous Stonehenge Wurthy line. Supreme Wurth, AKA Kissie Pooh, has an incredibly large body with nice strong boning, gorgeous coloration, large rosettes, glitter and a fat, fat tail. Kissie Pooh turns into a rag doll when he is picked up and held. He is extremely calm and mellow and so very sweet and loving. Click on his page to see more pictures and to check out his past kittens.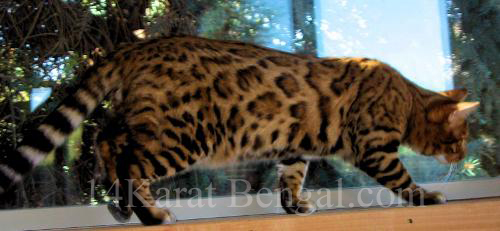 ---
ByFaith Heaven Bound of 14Karat Bengal

I am very excited about this gorgeous boy! Heaven Bound was produced by my very good friend, Ruth of ByFaith Bengals in Canada. Heaven Bound, AKA Cutie Boy, has an incredible face with fabulous large, wild eyes. In a lot of ways his face reminds me of my beloved Sabu. Heaven Bound is quite impressive in person and does NOT photograph nearly as beautiful as he actually is. He has huge, chunky black outlined rosetting and a massive, big, strong body. He is also such a happy, loving and affectionate boy who LOVES to climb into my lap to be loved on! He also jumps his entire body off of the floor to reach my hand when I lean down to pet him. I adore this stunning and very loving boy!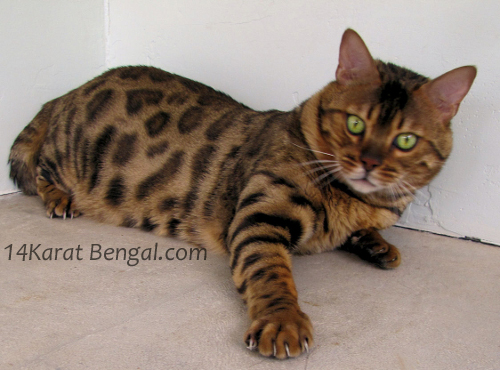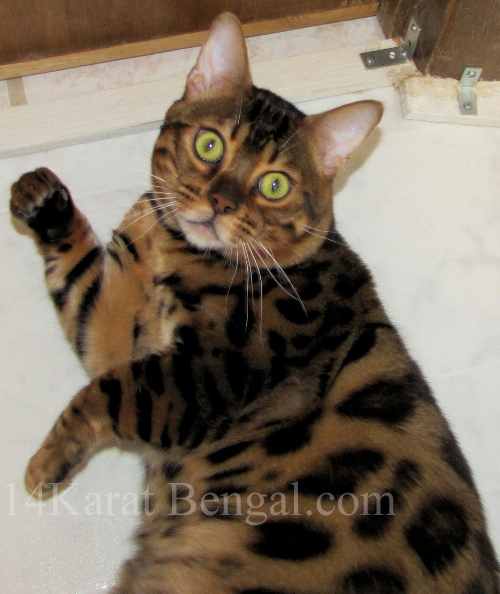 ByFaith Heaven Bound of 14Karat Bengal Brother, Kaiser, known as the smartest Bengal! bred by ByFaith Bengals Kaiser is a youtube sensation!
CONGRATULATIONS to Heaven Bound's sister and brother for their many show wins and titles!
Featured below is Heaven Bound's sister bred and owned by Ruth of ByFaith Bengals in Canada.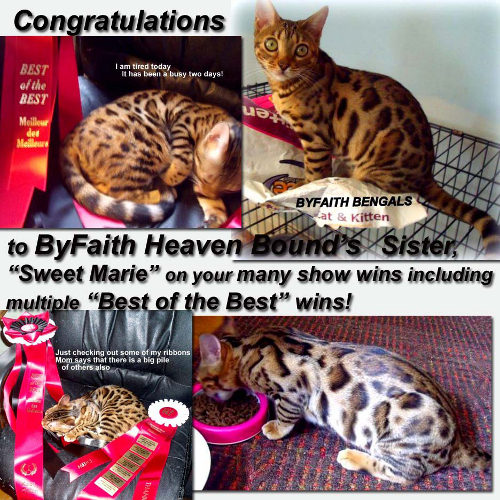 All the above pictures of Heaven Bound's sister provided by Ruth of ByFaith Bengals.
HEAVEN BOUND'S SISTER AT GLOBENGAL FEATURED BELOW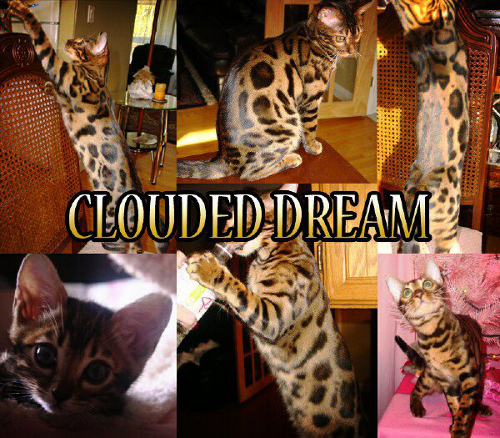 Collage of Gorgeous "GloBengal Clouded Dream" courtesy of Denise of GloBengal
---
---
14Karat Bengal does not offer stud service. My beloved stud muffins will either remain with me or will be placed into carefully approved homes "neutered" prior to leaving my home.