Homeopathy & Natural Remedies for Cats
Please click on the banners/links featured on this page
Negative or adverse side effects can be associated with a lot of conventional medicine. Some of the side effects can be minor while other side effects can be much worse than the actual reason for the treatment. Is the possible risk worth the treatment? What if you discovered there is a safer; and, in many cases, a much more effective method of treatment? Homeopathy and other natural remedies work extremely well and effectively for cats. Just how effective is quite astonishing! Homeopathy has been around for over 200 hundred years, dating back to the nineteenth century. Prior to my own personal experience with natural remedies for cats, I was one of the biggest skeptics. However, I now know firsthand, beyond any doubt, a holistic approach works extremely well, fast and effectively for cats. One reason I feel homeopathy or natural remedies works so effectively for cats is because the cat may be in its more purer or natural state.
It is our obligation as a pet owner to take the best, safest, more healthful and effective approach when it comes to our cats. Included on this page are book references and the name of one of the leading homeopathic vets in the US, Dr Don Hamilton. Renowned veterinary homeopath Dr. Don Hamilton is located in New Mexico and will do phone consultations.
If you are blessed to be sharing your life with a beloved feline or if you are interested in adoption, it is your responsibility to learn as much as possible about what may be the best option for your beloved cat.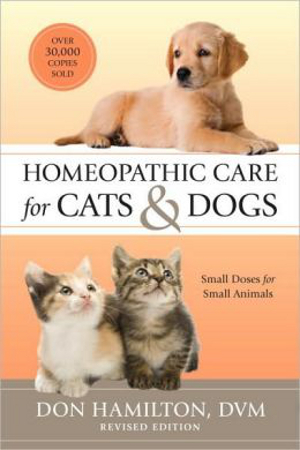 "First published in 1999, Homeopathic Care for Cats and Dogs quickly became a bestseller and an important resource for anyone looking for a more organic approach to caring for their cats and dogs. Using accessible language, author Don Hamilton gives readers an authoritative overview of animal homeopathy, covering history, treatment principles, homeopathic disease theory, and simple methods for using homeopathic remedies.
Homeopathic Care for Cats and Dogs offers expert guidance on home care and diet, how to obtain the information needed to choose a homeopathic remedy, how to dose remedies, how to choose the potency, and when to repeat remedies if necessary. The book lists organ systems by chapter, providing concise descriptions of symptoms, including how to evaluate patients' illnesses and when to seek veterinary care. Remedy and supplement suggestions follow disease descriptions. Each section contains the principal remedies needed for treatment. The book ends with a materia medica, which gives more comprehensive remedy information for each medicine listed in the book. This updated edition contains a new chapter on the human-animal relationship, timely information on vaccines, as well as new remedy information in every chapter. " - Overview
"Dr. Don Hamilton is one of the most experienced, creative, and open-minded homeopaths for animals in this country. He brings his years of veterinary practice and perceptive understanding of homeopathy to this book to expand your knowledge and to help the animals in your life. We are fortunate that he is sharing his wisdom. This book should be added to any animal lover's bookshelf."

—Cheryl Schwartz, DVM, San Francisco Veterinary Specialists, and author of Four Paws, Five Directions: A Guide to Chinese Medicine for Cats and Dogs
"Dr. Hamilton offers a clear, comprehensive, solid foundation in veterinary homeopathy that allows it to be accessible to animal guardians. It is an extremely valuable contribution to the field of veterinary homeopathy."

—Allen Schoen, DVM, MS, author of Love, Miracles, and Animal Healing and coauthor of Complementary and Alternative Veterinary Medicine: Principles and Practice
"Homeopathic Care for Cats & Dogs: Small Doses for Small Animals appears in a revised edition updating basic treatments and guidance for caring for pets, and comes from a vet who has practiced for over thirty years. Chapters provide overviews of different systems, from digestive to eyes, and discuss common ailments and their homeopathic options. General collections will find this a popular consumer pick."

—Midwest Book Review
Dr. Don Hamilton will do phone consultations.
---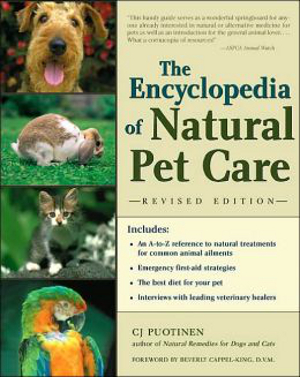 "Alternative health titles are topping bestseller lists as people search for effective, natural ways to care for themselves and their families—and, as every pet owner knows, house pets are family too. In this revised edition of her groundbreaking work, CJ Puotinen gives animal lovers even more of the information they'll need to care for their dogs, cats, birds, and rabbits the natural way." - Overview
---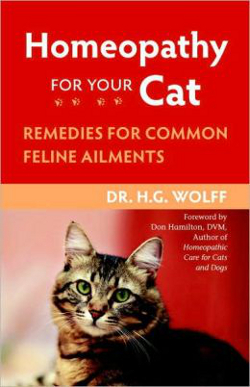 "Written for both the cat lover, as well as veterinarians, breeders, and show exhibitors who deal professionally with felines, Homeopathy for Your Cat offers detailed, authoritative information on a wide variety of homeopathic treatments available for common cat ailments. Written in an engaging, empathetic style by a respected German veterinarian, the book covers both acute and chronic problems in the ears, nose, and throat, the heart and circulatory system, the digestive organs, the ligaments, tendons, and joints, the reproductive system and urinary tract, and the skin. Individual chapters include an introduction to basic first aid, diagnostic reviews, and information on how to treat various dangerous viral and bacterial diseases, including feline distemper. A concise manual that covers everything the concerned cat lover or professional needs to know, from symptoms and illnesses to remedies and general care tips, Homeopathy for Your Cat addresses a market for alternative treatments believed to comprise a robust ten percent of cat owners—and growing. click on the above banner for another very informative site on vaccinations." - Overview
"Dr. Wolff's book fills a real void in the homeopathic veterinary literature. It provides a wealth of valuable information for veterinarians as well as the general public."


—Allen M. Schoen, DVM, MS, former President, International Veterinarian Acupuncture Society


"We often use homeopathic medicines with excellent results for the treatment and upkeep of cats, and this book provides us with information about new remedies that I am very interested in using. I recommend that cat owners, breeders, and show exhibitors seriously consider learning about homeopathy, and this book is a good place to start."


—Gail V. Graham, Runestone Ocicats, Ocicat breeder and exhibitor
---
---
Please be sure you are working with a veterinarian you trust. It is important to have a well established relationship with a "good" vet. There are times when cats can be treated with the use of homeopathy at home however there are times you will need the assistance of a vet. For a list of a "Holistic Vet" in your area please click on: http://www.pets4homeopathy.com/holistic-veterinary-care---vet-list.html
Also, Holistic Vet, Dr Don Hamilton, will do phone consultations.