---



14KaratBengal "Raja"

Raja has a striking face with big eyes and a sweet expression. He runs to greet me and when I sit on the floor he climbs into my lap. He loves to bathe me, giving me lots of kisses : ) I love his type, wonderful body, thick tail, gorgeous face, and lovely head and great profile. His background coloring is very pretty with rich, warm red tones and he has black outlined rosetting. Thank you, Chris, for being the perfect 'mommy' to my precious Raja! I value your email updates and I am so happy he is being such a lover. What a fabulous personality he has!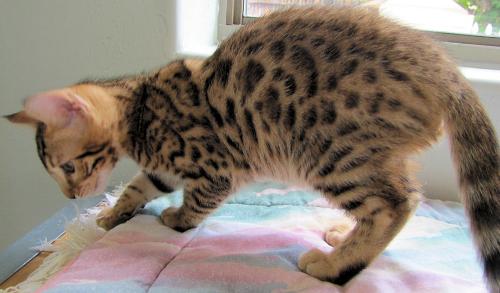 ---
| | |
| --- | --- |
| | 14KaratBengal "Embers of Jacara" |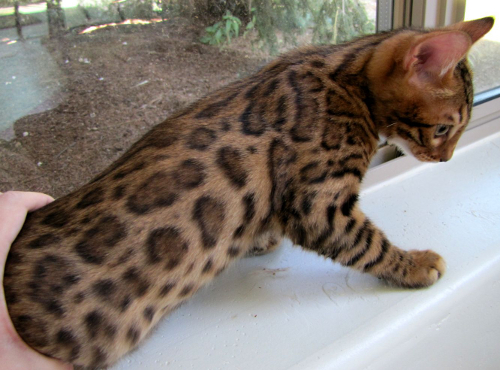 ---



14KaratBengal "Ted-D-Bear"

It makes me so sad that I did not get good pictures of this fabulous boy! Ted-d insisted on being practically glued to me making it virtually impossible to get a good picture of him. His pattern is so very wild looking with a very strong horizontal pull and he has such stark contrast- GORGEOUS boy with a big, loong body, beautiful head and profile and bright vivid coloration with jet black wild markings. He is insanely loving -- Thank you, Jeff, for giving this special boy such a fabulous home. I love receiving your updates!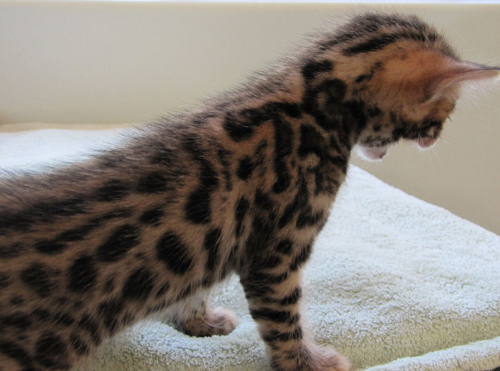 ---



14KaratBengal "Layla"

Layla is a big girl with a fabulous, loong, strong boned body, soft, thick, plush coat with black outlined rosettes, small ears, puffy whiskerpads, strong chin, beautiful face with a sweet expression and a fat, fat tail. She is my sweet, loving baby who loves to shower me with tons of kisses. She is very loving and affectionate. She may become available towards the end of 2012. I am holding her back as a possible queen.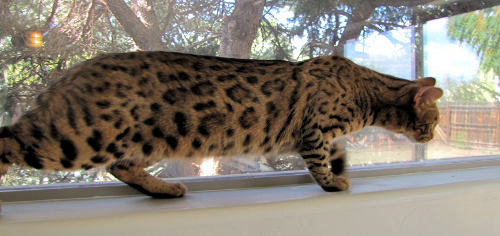 ---





14KaratBengal "Mishka" -- Cashmere Bengal

Mishka-- my long haired asian leopard cat! Mishka is so incredibly wild looking but has the sweetest spirit! She has developed a gorgeous rich copper and bronze colored coat drenched in glitter and covered in flowing inky black outlined rosettes. She will be available to an approved home around the end of 2012.

Updated pictures of Mishka will be added soon! Mishka's coat developed into a gorgeous copper and bronze color with jet black outlined rosettes.
---
14KaratBengal "Sammie" -- Cashmere Bengal

Sammie is a beautiful Cashmere boy with fabulous type. I love his large, black outlined rosettes, head/profile and wonderful body. I expect him to develop warm background coloring - he has lots of rich, warm coloring at his temples and behind his ears. I love his face too!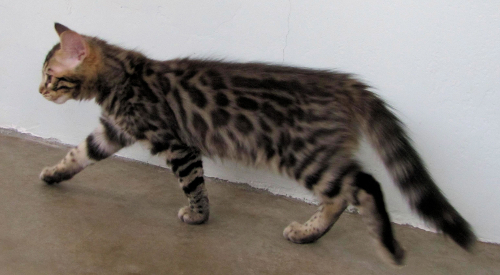 ---
14KaratBengal "Maxwell"

Jabar, renamed Maxwell, has a stunning coat of very symmetrical and flowing black outlined rosettes with no barring. He also has a lot of warm tones on his face and temples and should develop a very pretty, warm background coloration with red tones similar to his father. Maxwell has a wonderful face, great profile, a glittered coat and an adorable, sweet and loving personality. He LOVES to give tons of kisses! Thank you, Gayle, for sending me updated photos of precious Maxwell!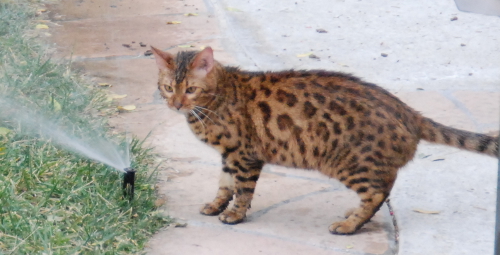 Photos of Maxwell are courtesy of Maxwell's owner, Gayle Martin. Photo above was taken of Maxwell "wet" playing in the sprinkler system.
---
14KaratBengal "Jazmin"

Sweet Jazmin is such a special girl! She looks a lot like her daddy and she is the sweetest thing. At only 4 weeks of age she runs with tail up high to greet me and climbs into my lap when I sit down on the floor with her. If I fall asleep, I find her snuggled close to my face. She is also gorgeous with large rosetting, pretty rosetted shoulder markings, beautiful coloration with red tones, super soft, plush coat, nice body, large paws, thick tail, great profile and a beautiful sweet face. She is going to be a stunning, sweet and playful companion! Thank you, Darci, for giving sweet Jazmin such a wonderful, loving home! I really appreciate your updates on this wonderful baby girl!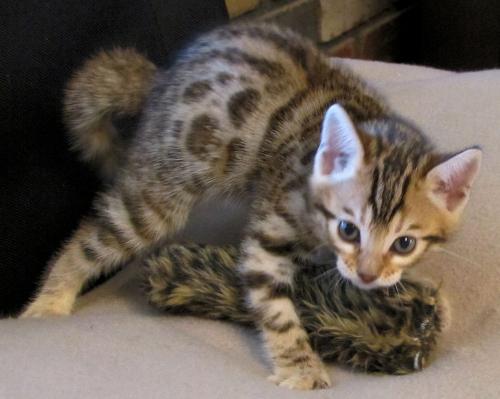 ---
14KaratBengal "Miloh" -- Cashmere Bengal

I am totally in love with this adorable Cashmere boy! He has the most amazing face!! I love his sweet, sweet face with his smiling expression, puffy whisker-pads and big, strong chin. He has a wonderful body, great profile and his coat will develop rich reddish coloration once he is fully mature. He also has a fabulous personality. Thank you, Cheryl, for adoring my precious baby boy!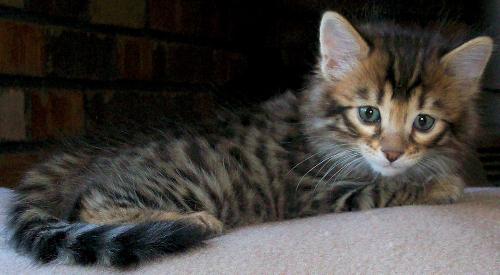 ---



14KaratBengal "Anastasia" -- Cashmere Bengal

Megara, renamed Anastasia, is a gorgeous Cashmere Bengal! She has a beautiful, sweet face, great profile and a fabulous clear coat with black outlined rosettes, amazing rosetted shoulder markings, glitter and rich coloration. She also has a fat, fat tail. Anastasia is very sweet and is an absolutely striking Cashmere Bengal! Thank you, Colleen, for giving her a wonderful home!

CLICK HERE FOR MORE PICTURES OF "ANASTASIA"